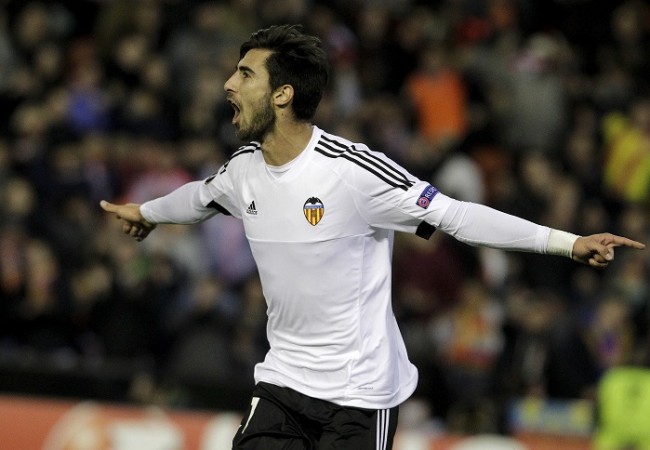 Manchester United will make Andre Gomes one of their first signings of the Jose Mourinho era. With the appointment of the Portuguese, several new faces are expected to come in this summer, and the Valencia midfielder looks like being one of those.
With Jorge Mendes holding even more sway at Manchester United following the choice of his client as the replacement for Louis Van Gaal, quite a few of his player-clients are being with a move to Old Trafford.
One of them likely to make a summer transfer is Gomes, the 22-year-old central midfielder, who currently plays for Valencia. According to the Daily Mirror, who cite a report in SuperDeporte, Mendes is convinced Manchester United will complete a deal for Gomes during this summer transfer window.
However, it will not be an easy deal to pull off, considering Valencia are determined to stick to their €40 million valuation of the player.
Manager Pako Ayestaran is also quite keen to ensure Gomes, currently with the Portugal squad, preparing for Euro 2016, remains a Valencia player when the next season begins, even if he admitted that decision might not be entirely his to make.
"The club know my preferences, there is a consensus," Ayestaran told AS. "Andre is a footballer who interests us and the objective is to keep him. Doing so is another thing."
Apart from Gomes, Manchester United have been linked with several big names, chief of them being Zlatan Ibrahimovic. The Sweden international will be out of contract when the transfer window opens, with his deal with PSG expiring.
The Premier League is thought to be his preferred destination and with Manchester United willing to offer him the salary he wants, the Old Trafford club are the favourites. Another reason is the presence of Mourinho, who enjoys a great relationship with Ibrahimovic, having coached him at Inter Milan.
Apart from Ibrahimovic, who has also been linked with a move to his hometown club Malmo, Mourinho is also looking at the likes of John Stone from Everton, Marquinhos from PSG, Real Madrid's James Rodriguez and strikers Pierre Emerick-Aubameyang and Alvaro Morata.
With money not thought to be a problem, it will be about convincing these players to join, despite Manchester United not being able to offer Champions League football.