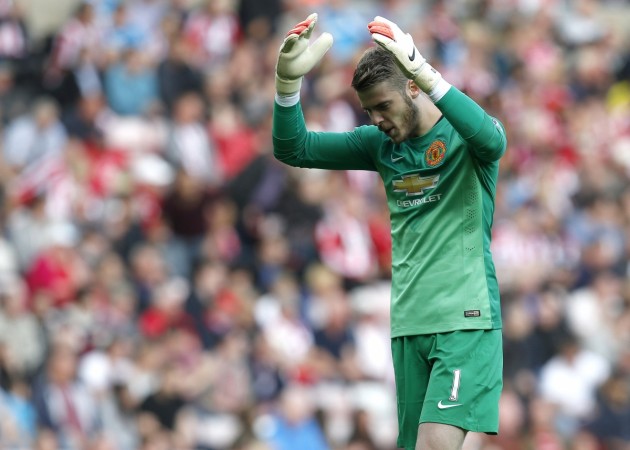 Manchester United star David De Gea has been linked with a move to Real Madrid for a while now, but according to Spanish journalist Graham Hunter, the transfer is unlikely to happen, as the goalkeeper believes the English Premier League club are on the cusp of something special under Louis Van Gaal.
De Gea is reportedly seen as the ideal long-term replacement for Iker Casillas at Real Madrid, with widespread reports from Spain and England suggesting a move could be imminent.
The fact that De Gea has not penned a new contract with Manchester United has only added fuel to the fire as well, but as far as Hunter, a respected journalist who covers football in Spain, is concerned De Gea is more than happy to stay at Old Trafford.
"The word on the training ground is that De Gea feels that something is beginning to happen at the club [Manchester United," Hunter wrote in his column for Paddy Power.
"That the quality of signings is rising, that Van Gaal is demanding in a way which will benefit those who wish to play and train as De Gea does."
Also standing in the way of De Gea and Real Madrid is Casillas. De Gea will know Casillas will not just relinquish his role as the number one goalkeeper for Real Madrid, and Hunter believes the young goalkeeper would be better served staying at Manchester United, where he is guaranteed a starting spot.
"With Iker Casillas on a mind-blowingly good contract for several more years and no more keen to hand over to de Gea at club than at Spain level would this coming summer be the time to succumb to that temptation rather than continue to develop, thrive and earn experience in the Premier League? No, probably not," added Hunter."
De Gea has been the standout performer for Manchester United this season, making one outstanding save after another – the 2-1 win over Stoke City being a case in point -- and if there is one thing that the club need to do immediately it is lock their goalkeeper down to a new contract.
Despite Victor Valdes reportedly close to signing for Manchester United, it is quite clear that De Gea will remain the undisputed number one under Van Gaal, and if the goalkeeper continues to make the kind of saves he has made all season, then the former Premier League champions should comfortably finish in the top four, the primary target for the Dutchman in his first season.