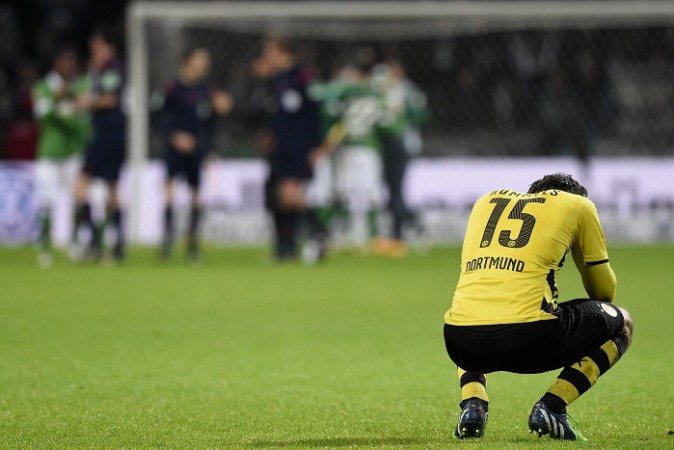 Manchester United and Arsenal would have perked their ears up just that little bit more after Mats Hummels lambasted Borussia Dortmund for their performance against Werder Bremen in the Bundesliga.
Dortmund suffered their tenth loss in seven games courtesy a 2-1 loss to Werder Bremen, with another inept performance from Jurgen Klopp's men costing them dear.
Hummels nearly inspired a Dortmund fightback with a goal in the second half, but it came to nought as the former Bundesliga champions crashed to another defeat to remain very much in the relegation zone, level on points with bottom club Freiburg.
"We've managed pretty well at home in recent weeks, but not at all away," Hummels was quoted as saying by the Daily Mirror.
"It's pretty astonishing that we are so pathetic."
Dortmund will have plenty of questions during the winter break, chief of them being if they can hold onto their assets, which includes Hummels.
The World Cup winner has been heavily linked with a move to Manchester United and Arsenal, with both clubs pondering mega bids either in the January transfer window or next summer.
Louis Van Gaal is thought to have made Hummels his No.1 defensive target and the Manchester United manager will know the chances of the centre-back remaining at the Westfalenstadion will be pretty bleak if they get relegated, which, despite Dortmund's struggles does seem unlikely.
However, with Champions League football for next season looking like a distant dream, Manchester United might be able to tempt the 26-year-old to Old Trafford by dangling that European football carrot.
The primary target for most top-level footballers is playing in the Champions League, and even if Borussia Dortmund are likely to escape from the relegation mire come the second half of the season, they will struggle to get up to those top four places for the Champions League.
Hummels has previously pledged his future to Dortmund, but if Manchester United make a tempting offer, both to the club and the player, things might change rather quickly.
While a move in the January transfer window looks unlikely, a switch in the summer does look possible, as long as Manchester United are able to fend off interest from the other clubs monitoring the talented central defender, including Arsenal.