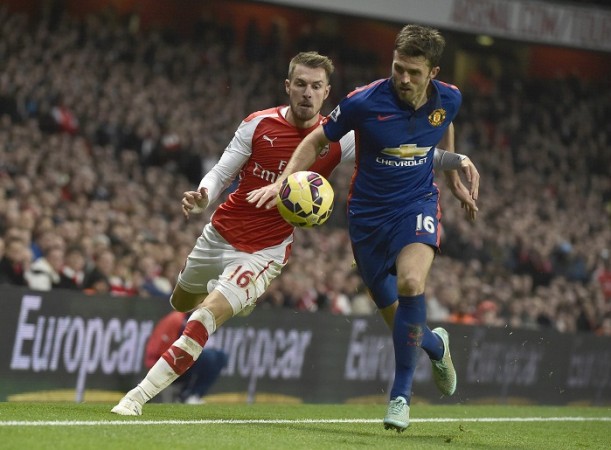 With Manchester United set to use the next summer transfer window as a means to spend money, money and more money, the inevitable consequence is going to be the exit of players, with as many as ten of them looking at the door with that blinking red light.
Manchester United have been tipped to whip out that cheque book again with great vigour in the summer, with reports from England predicting another spending spree in the region of the £150 million and more they spent bringing in players last summer.
Mats Hummels, Kevin Strootman, Diego Godin, Dani Alves and Arjen Robben are some of the names being considered, and the result of those big players coming in will be the end of several players' careers at Manchester United.
According to the Daily Mail, as many as 10 players could be given their marching orders in the summer, with some of the obvious names being Anders Lindegaard, Anderson, Nani, Tom Cleverley, Wilfried Zaha, Nick Powell and Javier Hernandez.
Lindegaard is widely expected to leave Manchester United in the January transfer window, with the club on the verge of signing Victor Valdes, who is training with the squad as he looks to overcome a serious knee injury.
Nani, Hernandez, Powell, Zaha and Cleverley are all out on loan to Sporting Lisbon, Real Madrid, Leicester City, Crystal Palace and Aston Villa respectively, and are expected to be sold in the summer, be that to their current clubs or another.
Apart from them, Darren Fletcher is out of contract at the end of the season, and could leave, while Ashley Young and Rafael have also been linked with a move away, with the duo only having one year remaining on their contracts come the summer.
Robin Van Persie is another player who will have only a year to go on his deal at the end of the season, along with Phil Jones and Chris Smalling, who have had injury and form worries over the past couple of seasons.
While all of them are not expected to leave, according to the report as many as ten players could look for pastures anew, particularly if Manchester United make those big-money signings.
David De Gea, though, is expected to sign a new contract, while Michael Carrick is another player in line for a new deal, with Manchester United having the option of extending his deal, which ends this summer, by a further 12 months.