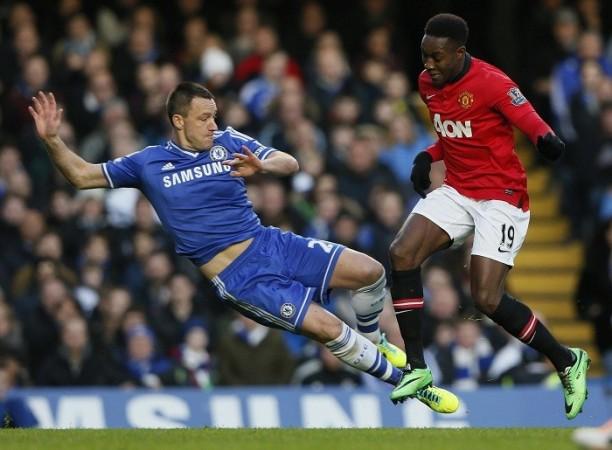 Manchester United striker Danny Welbeck has hinted that he might consider making a move away from Old Trafford this summer, after enduring a frustrating season under former manager David Moyes.
Welbeck, who was usually deployed in a wide midfield position by Moyes, said he was very frustrated on not being able to play in his preferred central striker position.
"It does get frustrating. You want to be playing in a certain position and you're not getting the opportunity to do that. It's the same for everyone - when they are being played out of position they don't really like it. I'd like to play central. I've been playing on the left for a while and it's got to the time where I want to stake a place up front," Goal.com quoted Welbeck as saying.
The 23-year-old claims that his record for England is much better than that of United, due to him being able to play in his preferred role.
"My goals-per-game ratio is better for England. I'm much more free up front as there are three in midfield and three up front. That way there's a bit more defensive cover rather than me being that defensive cover.
"For United I'm more likely to be left wing of a four-man midfield with only two centre mids so it's a bit more difficult for me to maybe make those runs to get in and score those goals when I've got to think about my defensive duties as well. Maybe I'm kind of let off the leash a bit more for England than United."
When asked if he was planning on leaving United this summer, Welbeck replied: "I'd rather not answer that question."
Moyes, who was sacked due to United's poor display this season, had regularly criticised Welbeck, saying the striker did not make enough efforts on the training ground.
"We had a word with Welbeck about a month ago and we said that he needs to be the last off the training field. Wayne Rooney's out there practising his finishing each day. I said: 'Danny, you need to be out there every day finishing, even if it's 15 minutes at the end'," Moyes had earlier told BBC.
However, Welbeck retorted to Moyes' comments, saying he always gave his 100 percent in the training sessions.
"I was pretty surprised, to be honest. I've grown up at Manchester United and been professional all through my career and I always do extra work. It's born and bred in me to do extra work after training. He came out with that statement but, before then, I had been doing extra training. Maybe he just didn't see it," Welbeck added.