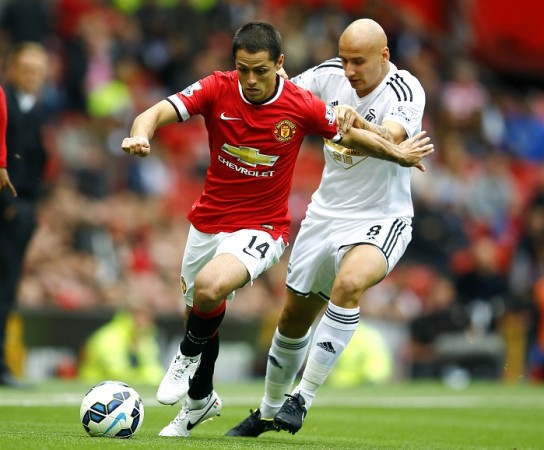 Manchester United are set to make a deal for a striker, but not an incoming one, with Javier Hernandez set to bid goodbye to Old Trafford, at least for one season, as Real Madrid look set to take the player on a season-long loan.
Hernandez has been on the fringes for a while now, with the Mexican striker, after making a glittering start to his Manchester United career, unable to hold down a regular place in the starting lineup.
The 26-year-old was sparsely used under David Moyes last season, and it did look like he would be surplus to requirements or fourth-choice at best under new manager Louis Van Gaal.
Hernandez, also known as "Chicharito", has been linked with several clubs over the summer, including Serie A winners Juventus, but now it looks like he will be heading to the European champions Real Madrid.
According to Spanish football expert Guillem Balague, the deal has already been made, and Real will bring in Hernandez to lend support to Karim Benzema, with the transfer for Radamel Falcao from Monaco now looking unlikely.
"Manchester United and Real Madrid have agreed a one-year loan deal for Chicharito Hernandez to be a player of Real Madrid," Balague told Sky Sports.
"Some may say that is surprising because they have lost a midfielder in Xabi Alonso, but they also lost [Alvaro] Morata and [manager Carlo] Ancelotti decided if they were going to get anybody it will be a No. 9.
"That's it, Real Madrid have got another striker."
It did look like Falcao was going to be Real Madrid's next big signing, with the striker keen on making a move to the Bernabeu. However, with Monaco asking any interested club for £20 million just to take the player out on loan, it seems like Real have decided against the move, with the transfer for Falcao now likely next summer.
Having seemingly let go of Hernandez, it is now likely now that Danny Welbeck will stay at Manchester United, despite the striker showing his willingness to leave before the transfer window shuts on Monday.
Tottenham, Everton, Hull City and even Arsenal were thought to be keen on the England international, but with Hernandez gone, it is hard to see Van Gaal sanctioning the sale of Welbeck as well, unless, of course, he has a striker transfer in mind.