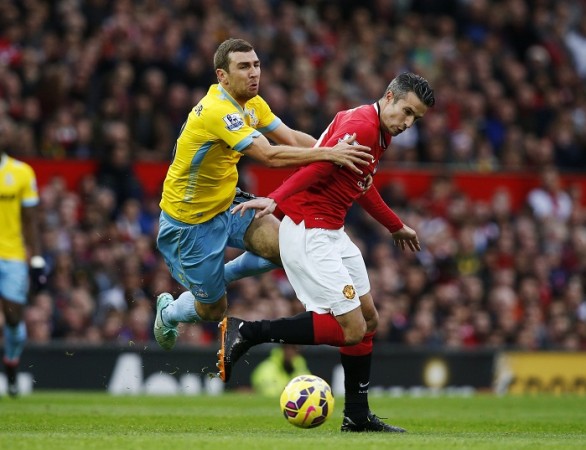 Manchester United are set for a further reshuffle of their forwardline with Robin Van Persie set for a summer exit, while Louis Van Gaal is considering bids for superstars Edinson Cavani and Thomas Muller.
After making a rip-roaring start to his career at Manchester United, following a controversial move from Arsenal, Van Persie has gone off the boil a bit, struggling for fitness and goals, which were the order of the day in his first season at Old Trafford when the club eased to the English Premier League title.
Despite the arrival of Van Gaal, who Van Persie enjoys a close personal relationship with, the striker has not quite been able to hit his usual heights only managing three goals so far.
That has naturally led to suggestions that Van Persie could leave Manchester United, with the likes of Real Madrid and Barcelona known to be admirers of the former Feyenoord man.
And it could be Manchester United that rock the boat and force his exit in the summer transfer window at the end of the season.
According to the Evening Standard, Van Persie will earn a further £10million loyalty bonus if he sees out the entire extent of his contract, which runs until the summer of 2016.
In order to avoid paying that extra cash, and also to take him off the wage books, Manchester United are ready to sell Van Persie at the end of this season, according to the report.
While Manchester United paid about £24 million for Van Persie's signature when they signed him from Arsenal in the summer of 2012, it is difficult to envisage the club recouping anywhere near that amount if they do plan to sell the player in the summer transfer window of 2015.
However, that apparently will not stop Manchester United from looking at high-profile targets to replace Van Persie, with Cavani and Muller said to be on the radar.
Cavani is still not quite a happy camper at Paris Saint-Germain and has been constantly linked with a move to the Premier League, while Muller is well known to Van Gaal having worked with him at Bayern Munich.
Both players will cost hefty fees, though, with Cavani, who has also been heavily linked with moves to Arsenal , Liverpool and Chelsea , rated at over £50 million, while Muller will cost a pretty penny as well, considering he only just signed a new contract with Bayern Munich, after being tipped for a move to Manchester United last summer.
Cavani might be the easier player to convince, especially if Manchester United finish in the Champions League places, but a spot for two strikers might open up, if Radamel Falcao fails to convince Van Gaal that his signing should be made permanent.