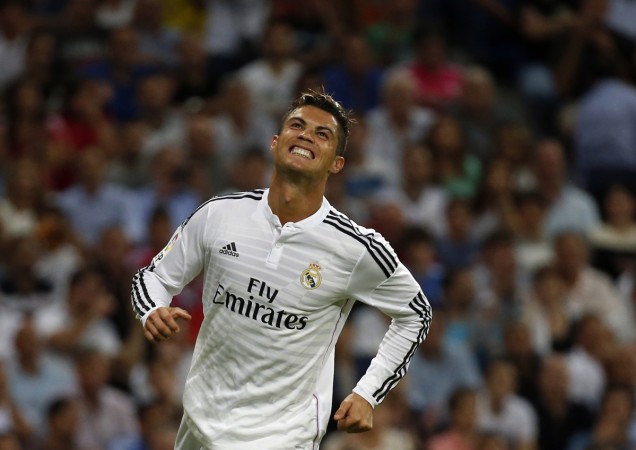 Portuguese star Cristiano Ronaldo could return to his former club Manchester United in the near future after being tired of his life at the Bernabeu, says ex-Real Madrid president Ramon Calderon.
Real Madrid have bought and sold a lot of key players since the arrival of Ronaldo in summer of 2009.
Calderon claims that the 29-year-old, who had personally requested the club not to sell Angel di Maria, is unhappy with current Real Madrid president Florentino Perez's policy of selling key players.
"My impression is he is fed up with the policy of the current president," Calderon told TalkSPORT.
"When he came [to Real Madrid] with [Arjen] Robben he thought he would be a good colleague for him in the team [Robben was later sold]. Two years ago, it was [Gonzalo] Higuain that was sold, and he didn't like that."
"Last year, he thought it was a mistake to let [Mesut] Ozil leave - and the last straw was selling [Xabi] Alonso and Di Maria this summer."
Ronaldo's Real Madrid future has been under a lot of speculation this summer, with him being linked with a move back to England.
Although many Premier League clubs will be interested in securing the signature of Ronaldo, Calderon insists that the Portuguese will only be interested in returning to Manchester United.
"When I signed him in 2008, I remember he said he was grateful to Manchester United. He had a marvellous time there - he likes everything. It is a really great club," added Calderon.
Meanwhile, Sky Sports' Spanish football expert Guillem Balague also believes that Ronaldo is unhappy at Real Madrid and the star forward would probably be re-joining Manchester United.
"He is unhappy and he's said so – but then he corrected himself by saying 'I didn't mean what he said'. It was a bit confusing," Balague told Sky Sports. "Anyway, you have to say he's not happy that Ozil left and he didn't like the fact that Xabi Alonso and Di Maria left."
Balague believes that Ronaldo never enjoyed himself while playing for Real Madrid like he did when he was at Manchester United.
"He has this idea, I think, that at Real Madrid he is doing a job and he is working, but he enjoyed himself almost like a kid at Manchester United," added Balague.
Although earlier the Red Devils did not seem keen to spend too much money in the transfer window, they have now proved that they are capable of spending freely in the transfer market.
And Balague is certain that United will not hesitate to break the bank for Ronaldo, who, according to him, is reportedly keen on returning to his former club.
"He dreams of going back to Manchester United and Manchester United have got all the finances in place to get him."
However, despite claming he knows when Ronaldo will be making his return to Old Trafford, Balague did not the details.
"When will that be? It depends, of course, on a lot of things," he added. "It depends on Real Madrid and on Cristiano himself. I have a pretty good idea of when he wants to go. It won't be this month or next month, but he wants to go back to Manchester United and everything is in place for him to return to Old Trafford."