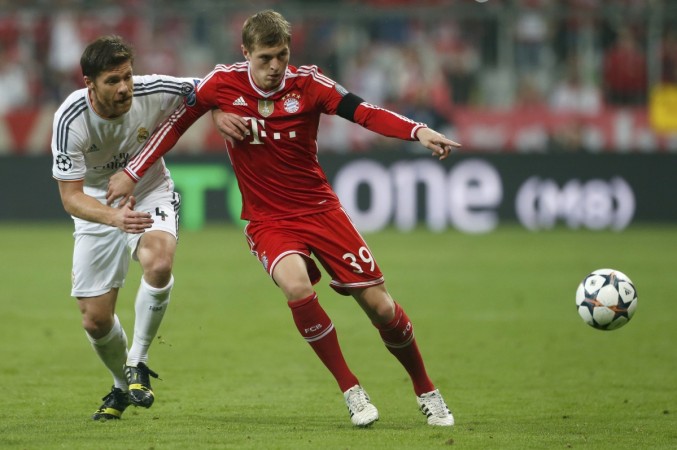 Manchester United are reportedly very close to signing German midfielder Toni Kroos from Bayern Munich.
The 24-year-old German has been linked with the Red Devils since last summer but Bayern were reluctant to let him leave then. However, now Kroos that has only a year remaining in his current contract, the German giants are ready to sell him to United this summer rather than see him go on a free transfer in the next.
This is why United, who officially announced the appointment of Holland coach Louis van Gaal as their new manager, are believed to be on the verge of making the German international their first major signing this summer, according to ESPN FC.
There is, however, a slight change that Bayern will want to wait till after the World Cup to complete the deal as there is every chance that Kroos' performance in Brazil could attract bids from other clubs. howver, it is most unlikely that Kroos will move anywhere else but Manchester United this summer.
Meanwhile, it is believed that Manchester United will be giving Van Gaal a £150 million war chest to improve the Red Devils' squad this summer. Last season, David Moyes was unable to do much business in the transfer market as he was only able to sign Marouane Fellaini and Juan Mata, in the January transfer windo, from Everton and Chelsea respectively.
Many believe this was the main reason behind United's poor performances in the Premier League and other competitions last season. Therefore, this time the Red Devils are willing the break the bank as they look to reinforce their midfield, central defence and left-back positions.
While United are confident of getting the signature of Southampton left-back Luke Shaw, they are also reportedly interested in Borussia Dortmund's Mats Hummels and Marco Reus.
However, Dortmund may be reluctant to part company with Hummels and Reus as they have already lost some key players including Robert Lewandowski and Mario Gotze, both to Bayern Munich.
Finally the Red Devils are also looking to bring in midfielders Arturo Vidal and Cesc Fabregas from Juventus and Barcelona respectively. While United have a good chance of securing Vidal's signature, Barcelona are likely to let go of Fabregas only if they receive a big offer.