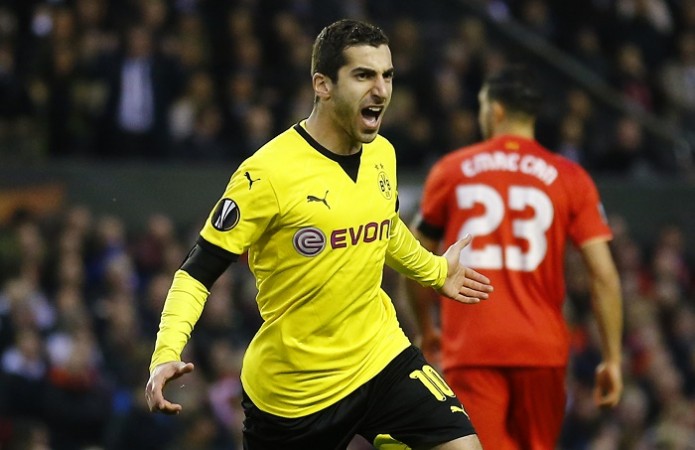 After Jose Mourinho took over as the Manchester United manager, it seems that some of the big names from football may just be a little more interested in making a move to Old Trafford, even if the Red Devils have not made it to the next season of Champions League. Mourinho recently brought in his first signing in the form of Eric Bailly and it is highly likely that Zlatan Ibrahimovic will also arrive at the Old Trafford soon.
The former Chelsea manager will leave no stones unturned to make it a better team than the last sesaon and yield positive results in the forthcoming season.
According to a report of Mirror, Mourinho has marked out Henrikh Mkhitariyan from Borussia Dortmund and wants him at the club for the next season. United had previously made an offer for him but it was rejected by the German club.
Now, as Mkhitariyan's agent Mino Raiola has confirmed that the Armenian would prefer a move to Manchester United and the transfer might be on. Raiola also had said that an offer from the Red Devils is a once-in-a-lifetime opportunity so Mkhitariyan is considering his decision.
"We have both taken very different views and fight for them like lions. Watzke walks 180 degrees into one direction and I 180 degrees into the other. But even though it does not look like it right now, I still hope for a sensible solution," Raiola was quoted as saying by the Peoples Person.
"Such an offer to join Manchester United might only come once in a lifetime for a player and nobody can guarantee us that the door will still be open for Mkhitaryan next season. Manchester is Mkhitaryan's dream club, he wants to join them by any means.
"We are still talking to Dortmund. We are trying to be reasonable. They are aware that Mkhitaryan wants to leave now."
Manchester United is reported to have submitted a fresh and improved bid of £28m million for Henrikh Mkhitariyan.