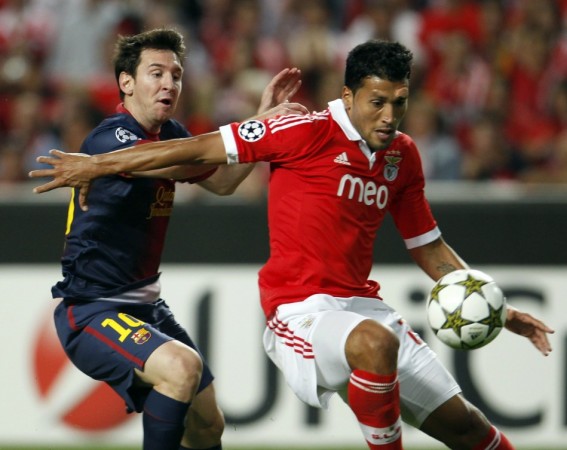 Manchester United have been snubbed by Benfica defender Ezequiel Garay, who is reportedly all set to make a make a move to big spending Russian outfits Zenit St Petersburg.
Although Manchester United along with Serie A Champions Juventus were reportedly interested in signing the 27-year-old, Garay has reportedly opted to join Andre Villas-Boas' Zenit St Petersburg for a transfer fee of around €20 million, according to the Daily Mirror.
The player's agent said the transfer is expected to be completed before this weekend.
The former Real Madrid centre-back, who has been named in Argentina's 30-man provisional World Cup squad, has made 78 appearances for Benfica since joining them in 2011.
Manchester United, who recently unveiled Holland coach Louis van Gaal as their new manager, will be disappointed as they were hoping to lure in the defender to strengthen their backline now that Rio Ferdinand has left the club and Nemanja Vidic is set to join Inter Milan.
Meanwhile, former United midfielder David Beckham is certain that Ryan Giggs will prove to be successful as Van Gaal's deputy.
The 40-year-old Welshman, who made 963 appearances for the club, finally decided to hang his boots and become United's new assistant manager after a glorious 24 years which saw him lift many trophies including 13 Premier League titles, four FA Cups, three League Cups and two Champions League crowns.
However, Beckham says he was surprised to hear about his 'Class of 1992' teammate's retirement as he thought that he was going to carry on for another season.
"I'm surprised he's retired because he was still playing great," Beckham told Sky Sports. "Physically he's still in great condition, to play for so many years at the top level you have to be. Now he has a new role at the club and it was great to see him walk out as Manchester United manager for those four games."
Nevertheless the former Real Madrid man is confident Giggs will find success in his new role at Old Trafford.
"When you've got someone like Giggsy, who all the players respect and all the fans love, it makes a huge difference," Beckham added. "His role now has totally changed and I'm sure he will find it an easy transition because he takes things in his stride. Ryan's not affected by anything. He knows the club better than most people who are at Manchester United now."