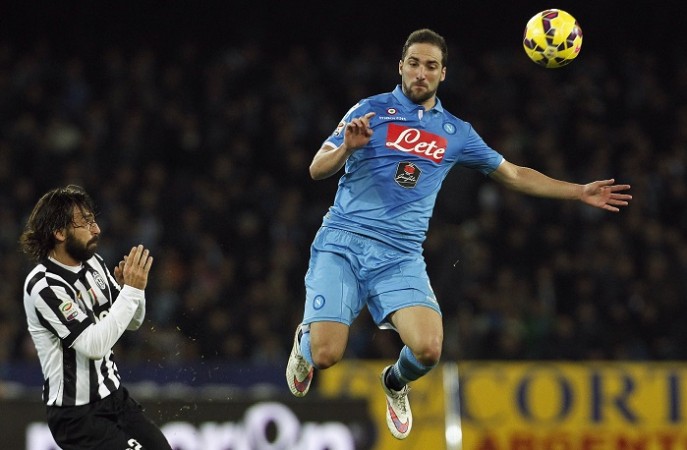 Manchester United are reportedly planning a summer transfer for Napoli striker Gonzalo Higuain. United have been looking for a striker who would fill in the shoes of Radamel Falcao in the next season.
United have already confirmed the departure of Radamel Falcao to his parent club AS Monaco after a poor run of form at the Old Trafford this season. Falcao could only score four times during his stint at United.
The former Real Madrid striker has already found the back of the net 26 times this season and is one of the targets of United boss Louis Van Gaal.
Arsenal and Chelsea have also been linked to this Argentine striker. Napoli have reportedly set a transfer fee of £42million and want to part ways with Higuain this summer.
Last year, Higuain almost signed with the Gunners but a late deal from Napoli took him to the Italian club. Club manager Rafa Benitez's departure could well see other players on their way to different clubs.
Higuain's credentials are pretty impressive ever since he joined his former club Real Madrid in 2006-2007. He might well solve Angel Di Maria's poor run of form at the Old Trafford. He could be the morale booster for the Argentinian winger, with whom he has played together at Santiago Bernabeu. With Falcao's departure and Javier Hernandez set to be sold after his loan time with Real Madrid, Van Gaal would look to bolster his attacking front ahead of the next season. Robin van Persie too has been out of form as he could only manage to score 10 goals this season.
According to reports, Red Devils are prepapring to launch a triple-transfer deal which might involve the names of Marco Reus from Borussia Dortmund and Nicolas Gaitan from Benfica. Higuain will be the third name on the list. As United have a lot of cash in their kitty to spend this summer, they will look to strengthen their squad in all possible way. The triple-transfer deal will set them back by £113 million.