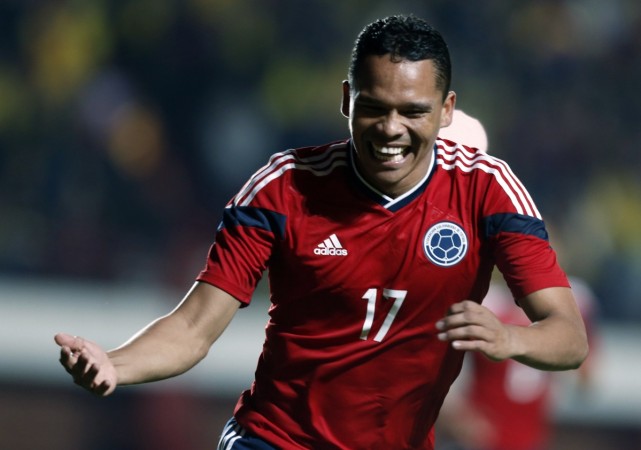 Manchester United are reportedly ready to meet the asking price in Sevilla striker Carlos Bacca's buyout clause in order to land him this summer.
Though United have been looking very good of late, recording seven wins in their last ten fixtures, ?Louis Van Gaal is reportedly still not satisfied with his current strikers.
While Radamel Falcao, who joined United on loan from Monaco for £6 million last summer, has proved to be a big flop in the English Premier League, Robin van Persie has also not been impressive this season due to a combination of injuries and lack of form.
Due to this reason, United are not expected to sign Falcao permanently for £43.1 million this summer, and van Persie is also most likely to be offloaded.
Only Wayne Rooney has been the consistent this season, despite van Gaal mostly playing him in the midfield.
As a result, United are reportedly keen to get a new striker as van Gaal looks to challenge for the Premier League title and compete in the Champions League next season.
The Reds Devils are already being linked to a number of strikers including Aston Villa's Christian Benteke, Bayen Muinch's Robert Lewandowski and Paris Saint-Germain's Edinson Cavani.
But according to a latest report in the Metro, United are reportedly seriously considering a move for Sevilla's Bacca.
The 28-year-old striker, who completed a €7 million switch from Belgian side Club Brugge to Sevilla in the summer of 2013, has been impressive in Spain, scoring 14 goals from 35 appearances in 2013/14 and 17 goals in 32 appearances this season.
His impressive performances have caught the eye of many sides including AC Milan, Liverpool and Arsenal, but the Red Devils are believed to be leading the race to secure his signature as they are reportedly willing to meet the £21.3 million release clause in the Colombian's current contract.
Although Bacca recently insisted that he was happy at Sevilla and is not looking for a transfer, he admits that he will move to a new team if the La Liga club decide to cash in on him.
"I am feeling very well here and I am not thinking about a transfer," said the Colombain, according to the Metro. "Things are going well for me and for the team. Then again, if Sevilla need to sell me or decide to cash in, we will sit down to discuss and evaluate any offers."