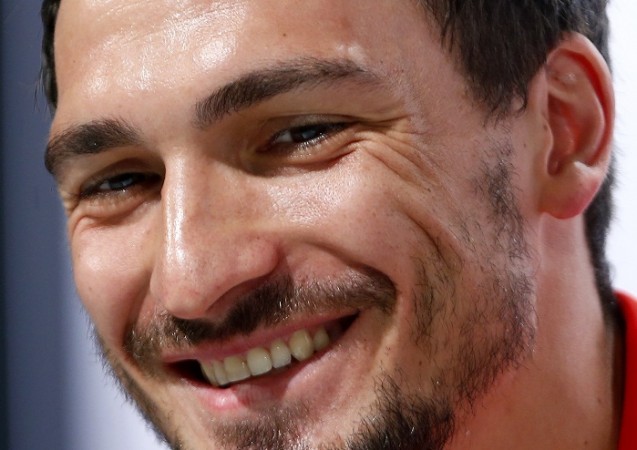 Manchester United are competing with Spanish club Barcelona to sign German international Mats Hummels, according to the reports.
Man United are in need of a central defender after losing Rio Ferdinand and Nemanja Vidic at the end of last season and newly-appointed managed Louis van Gaal has identified Borussia Dortmund defender Hummels as his new target to rebuild United's defence.
Van Gaal is an admirer of the 25-year-old and wanted to bring him back to Bayern Munich in 2009, when Hummels signed a long-term deal with Dortmund, months before the Dutchman joined the German club.
Hummels is currently on national duty with Germany that are set to face Brazil in the semifinals at the Estadio Mineirao on July 9. He has scored twice for the former champions in the World Cup, including a winner against France.
According to the report in Daily Star, the Old Trafford club has contacted the representative of the German defender and a source close to him has not ruled out a potential move to the Premier League giants.
The Red Devils are aiming to give £20 million offer to the former Bayern player, while Barcelona are ready to offer a "bumper deal" to land Hummels at the Camp Nou, according to a report in The Express.
The Catalans are looking for a replacement of Carles Puyol, who retired at the end of last season. However, reports suggest that van Gaal will fight to sign Hummels, who had earlier hinted that he may leave Westfalenstadion to play for the Red Devils someday.
Van Gaal has already signed Southampton's left-back Luke Shaw, but he still needs central defenders as United is looking to qualify for the Champions League. Phil Jones and Jonny Evans failed to impress last season, due to which the Dutchman is looking for a dominant centre-back.
Meanwhile, numerous reports suggest that United are leading the race of signing Chile's Arturo Vidal. Italian side Juventus have reportedly valued the Chilean international at around £40 million, but the Old Trafford club is aiming to get the 27-year-old onboard for £30 million and winger Nani.
Juventus have a long-standing interest in the Portuguese midfielder, while Vidal had already made clear that his future with the Serie A club is unclear.