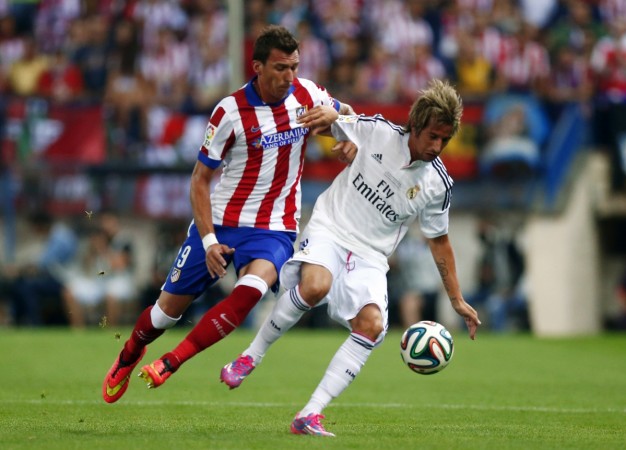 Manchester United are reportedly preparing a £27 million bid for Fabio Coentrao following reports that Real Madrid have placed the Portuguese defender on the transfer market.
Earlier some reports in Spain had suggested that the 26-year-old left-back, who joined Real Madrid from Benfica in the summer of 2011 for a transfer fee of €30 million plus Ezequiel Garay, was unhappy at the Bernabeu due to him getting very limited first team action this season.
The Portuguese defender, who picked up a knee injury in the preseasons, has only made three appearances for the Los Blancos this season, with manager Carlo Ancelotti preferring Marcelo over him in the left-back position.
Due to this reason, Coentrao is reportedly keen to leave the Bernebeu and move to a different club in January. And Real Madrid, who are believed to be interested in Bayern Munich's David Alaba, have reportedly respected his wishes and made him available for the winter transfer window.
And according to the Daily Star, the Red Devils, who are keen on strengthing their defences in January, are reportedly looking to table a £27 million bid for the Portuguese in the winter transfer window.
Although the Red Devils already have Luke Shaw, who arrived from Southampton this summer, playing for them in the left-back position, van Gaal is reportedly keen to bring a more experienced defender to give some competition to the youngster.
However, United may not be able to secure the signature of Coentrao that easily as many other top clubs including Juventus, Monaco and Paris Saint-Germain are also rumoured to be interested in the Portuguese left-back.
Still van Gaal is reportedly confident that a long-term contract and a chance to play regular first-team football will be enough to attract Coentrao to Old Trafford despite United not being able to offer him European football.
Apart from Coentrao, United are also keeping a close eye on Roma left-back Ashley Cole, who is expected to leave the Serie A side in January, in case their move for the Real Madrid defender falls through.