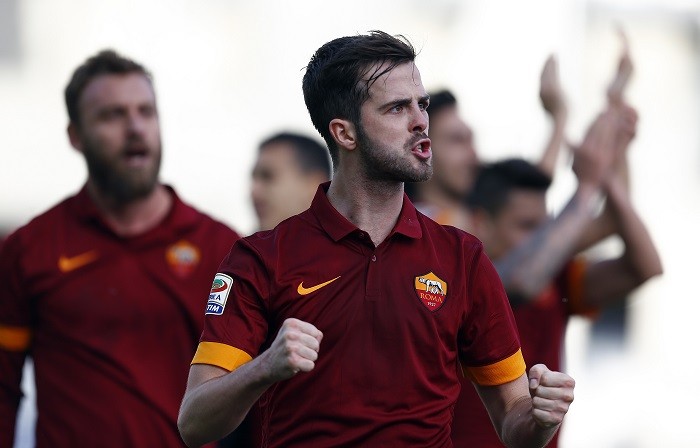 Manchester United are reportedly looking to reignite their interest in Roma's Miralem Pjanic despite the midfielder being the main summer target of their rivals Liverpool.
The Red Devils were being linked with a move for Pjanic last season, but the move failed to materialize and the midfielder ended up signing a new contract (until 2018) in May.
Since then, United have cooled their interest in the 25-year-old, and Liverpool have emerged as the new favourites to sign him this summer.
Reds boss Brendan Rodgers was reportedly informed by Roma that Pjanic will be available for £37 million in the summer after the Northern Irishman had enquired about the midfielder's availability in February.
It is believed that the Reds are looking to sign Pjanic as long-term replacement for their captain Steven Gerrard, who will be leaving Anfield after the end of the season.
However, according to the Daily Mirror, United have also joined the race for his signature, with Louis Van Gaal keen on getting a new central midfielder this summer.
Earlier, the Red Devils were keen on landing Pjanic's Roma teammate Kevin Strootman, but the Dutchman's persistent injury problems have forced them to look at other options.
United's interest in their target Pjanic will be a big blow for Liverpool as the Red Devils will be a formidable rival for the midfielder's signature since they have almost unlimited transfer funds.
Meanwhile, van Gaal has said that he has already started making plans for the 2015/16 campaign even though the current season still has more than a month remaining.
The Red Devils are again scheduled to go to the United States on a pre-season tour, and the Dutchman admitted that he has already started making plans for the new season.
"Already in January [we began thinking about the 2015/16 season] because we have to prepare our pre-season and Manchester United will go to America," the former Barcelona boss told Manchester United's official website. "The aim is of course that we have to train and not only to play matches. Already for three or four months we are talking about our pre-season."
Also, the Dutchman said he is planning to send scouts to analyse the performances of his on-loan players and those of other clubs.
"We also think about the scouting of players, the scouting of our own players because we have a lot on loan and then we have to analyse their performances, so it's a lot of work. It's not only the present season but also what we have to decide for players next season."