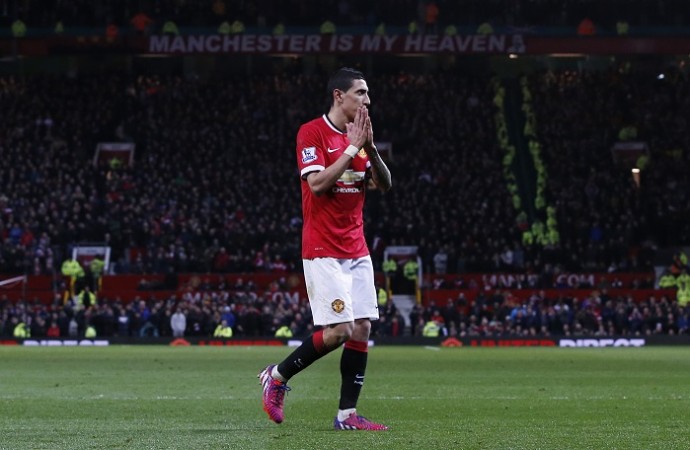 Manchester United are reportedly not looking to sell their record signing Angel di Maria despite there being a lot of speculations about his future, following his unimpressive performances at Old Trafford this season.
Although Di Maria, who moved from Real Madrid to United for a record-breaking transfer fee of £59.7 million last summer, initially got off his Old Trafford career to a bright start, his form has deteriorated and the Argentine has been shaken after his family became a victim of an attempted burglary in January.
The former Benfica man's exit rumours have been further fuelled, following reports of United boss Louis van Gaal scolding Di Maria in the dressing room after the Red Devils 2-1 Premier League win at Liverpool last weekend.
However, according to ESPN, the Red Devils are still not prepared to sell the 27-year-old as they believe that he can improve and do better next season.
Earlier some reports claimed that Di Maria has not been happy with Van Gaal's tactical instructions this season, but ESPN claim that the Argentine is one of the few players at Old Trafford who are allowed to make forward runs and support the attackers.
Meanwhile, Daley Blind believes that he has improved and become a much better player after moving to Manchester United and competing in the Premier League.
The 25-year-old, who completed a £14 million switch from Ajax to Old Trafford last summer, following his impressive performances in the 2014 World Cup, has been deployed in a number of positions including the defensive midfield and the left-back position.
And Blind believes that the competitiveness of the Premier League is helping him grow as a player.
"In the Premier League, you have to grow," Blind told the Manchester Evening News. "I noticed that the rhythm of the game is much higher. The games just went much faster than in the Netherlands. That comes in handy for me in the Dutch national team, and also in my career."
"When you develop yourself, you can become a more complete player and that's what I want - to get better every day, to learn little things; and these should naturally be reflected in the game."