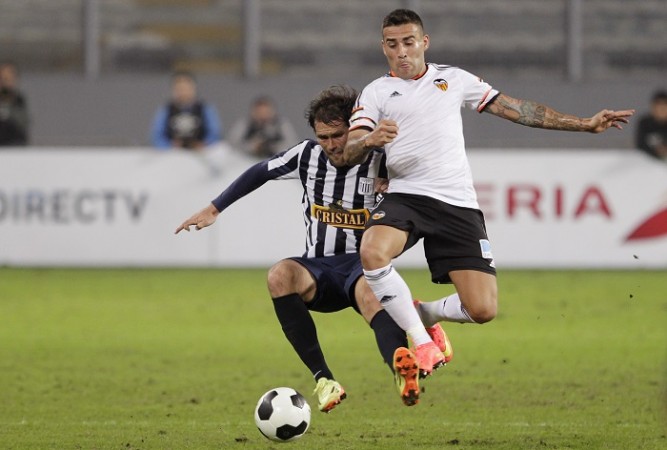 With football clubs across Europe interested in strengthening their squad for the next season, a number of names are likely to be linked to various teams, most of which might be mere speculations or just plain rumours.
Keeping in tune with the upcoming transfer season, a number of media reports have linked Manchester United with Valencia's Nicolas Otamendi, where verbal agreement seems to have been struck with Otamendi's agent.
However, Sky Sports report states that Valencia have not received any offer for the Argentine, who is currently in Chile representing his national side in Copa America 2015.
Valencia signed him in January 2014 and he was loaned out to a club in Brazil.
Having played his first match for Valencia in August 2014, Otamendi has been hugely impressive. Hence, it is not surprising that a top club like Manchester United is said to be interested in the player.
However, one doesn't need to be a genius to understand Otamendi's value to Valencia. Otamendi scored six goals for the club after playing 38 league games last season. Hence, even if Valencia decides to let go of the player, Manchester United will need to put hands deep into their pockets to land Otamendi.
The report further suggests that Valencia will not be willing to let go of the player for less than €50m. Are Manchester United willing to pay such a huge fee?
Manchester United needs to be careful before plunging for his signature as the player is already 27 years old and might not have a huge resale value in the future.
The central defender is one of the best defenders in the world and hence, Louis van Gaal might be interested in bringing him to Old Trafford and strengthen his team. He signed Marcos Rojo as a key defender last summer, but his injuries seem to have become a bone of contention for now.
Manchester United did not enjoy a good defensive record last season and their problems at centre back -- van Gaal tried a number of players in that role -- made matters worse.
If Manchester United land Otamendi, his presence could play an important role in upgrading their defense and he can be the leader of the pack.
With Manchester United set to play the champions league next season, they cannot afford to have a weak defensive unit, and hence, linking Nicolas Otamendi to Manchester United makes sense.