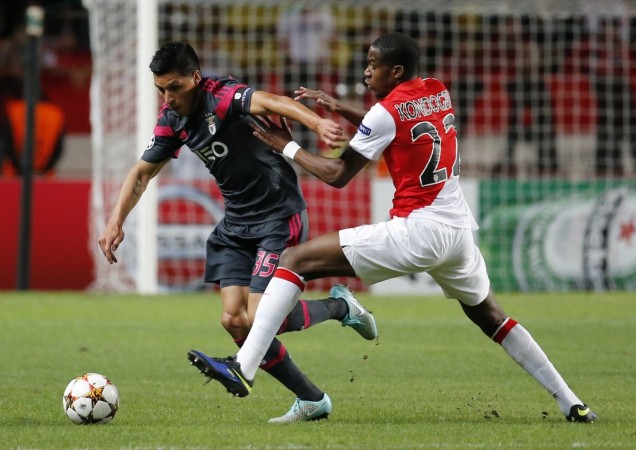 Manchester United are reportedly considering moves for Benfica's Enzo Perez and Valencia's Nicolas Otamendi in the January transfer window.
Despite spending a considerable amount in the transfer market this summer, the Red Devils are reportedly looking to add some more faces in January to further strengthen their squad.
While the Red Devils are in need of a new defender because of injury woes, with likes of Phil Jones, Jonny Evans and Marcos Rojo currently on the sidelines, Louis van Gaal is also reportedly searching for a new central midfielder as he looks to deploy the 4-4-2 formation.
And according to the Express, United have finally identified their targets in Benfica central midfielder Perez and Valencia centre-back Otamendi.
Although both players are on the radar of a number of top teams following some impressive performances at their respective clubs, the duo is reportedly interested in making a move to Old Trafford to play alongside their Argentine teammate Angel di Maria.
United will however have to shell out a considerable amount of money as Perez has a buy-out clause of £23.5 million, while Otamendi has a price-tag of £40 million.
Meanwhile, Nani dismissed suggestions of him being forced out of Manchester United, saying that he chose to leave Manchester United to get more first team football and regain his confidence.
The 28-year-old joined Sporting Lisbon on a season-long loan as a part of the deal that saw Marcos Rojo move to Old Trafford for £16 million this summer.
Many believed that Nani had been forced to leave United due to him being very inconsistent at Old Trafford, but the Portuguese claims that it was he who decided to leave United after seven years.
"Louis van Gaal gave me the option to go. I could have stayed but I chose the best option for me at the time and I think I was right," Nani told Manchester Evening News.
"I saw the opportunities at United were going to be less for me so I had to make a choice. I had been at Old Trafford for a long time, for seven years, and I think I needed a little time away to understand and find my confidence again," he added.
And he feels that he has made the right choice by moving back to his former club.
"I am very happy how [sic] it is going at Sporting. That is what I wanted. I wanted to play more. I wanted to get back to my best and I wanted to enjoy my football," added Nani.
"That is what is happening. It is going well. It has turned out very good for me. It has made me very confident again for the future. Yes, I had to get away from United to achieve this."