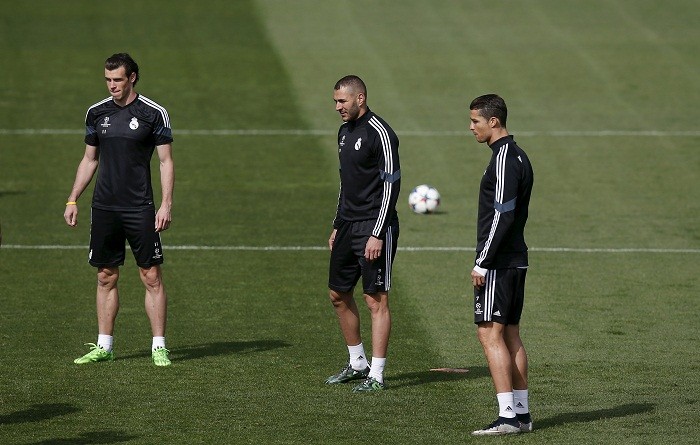 Manchester United are certainly going big in the transfer market this season, with the Premier League club reportedly enquiring about Real Madrid's superstar "BBC" trio of Cristiano Ronaldo, Gareth Bale and Karim Benzema along with France international defender Raphael Varane.
United, after shelling out well over £100 million in transfers last season, are again expected to flex their muscles in this summer window, with the club linked to some of the biggest names in world football.
Ronaldo has always been on the radar of Manchester United, with any sign of discontent at Real Madrid, immediately translating to a report suggesting the Portuguese is on his way back to the Premier League.
The same can be said of Bale as well, who did not have the greatest of times last season at the Bernabeu, piquing Manchester United's interest.
Benzema is reportedly Louis Van Gaal's No.1 striker target for this summer, and Manchester United have reportedly asked about the Frenchman, while bringing in a talented player like Varane will definitely boost the back-four.
While just one of the above four players will strengthen Manchester United considerably, according to AS, the Premier League side have asked about the availability of all four – Ronaldo, Bale, Benzema and Varane.
The report also goes on to say that Real Madrid rejected the enquiries outright, insisting none of them will be sold this summer, which would have come as a bit of a blow for Manchester United, even if the answer was probably on expected lines.
Varane reportedly wants a guarantee that he will be a starter next season, something Real Madrid and their new manager Rafa Benitez are not ready to commit fully to. Manchester United sensing an opportunity, after being told about the possible discontent, asked about the defender's availability for a transfer, but was given a negative answer.
Certain reports recently have suggested Ronaldo is unhappy about signs that Benitez is looking to make Bale his main man, which on the face of it does sound a bit far-fetched.
While Bale's struggles last season are well known, the Welshman has insisted he will be a Real Madrid player next season as well, with Benzema's agent also coming out and nipping any potential move to the Premier League in the bud.
Big signings can be expected from Manchester United in the next couple of months, but tempting any of the four Real Madrid players to move to Old Trafford might be a bridge too far, for now at least.