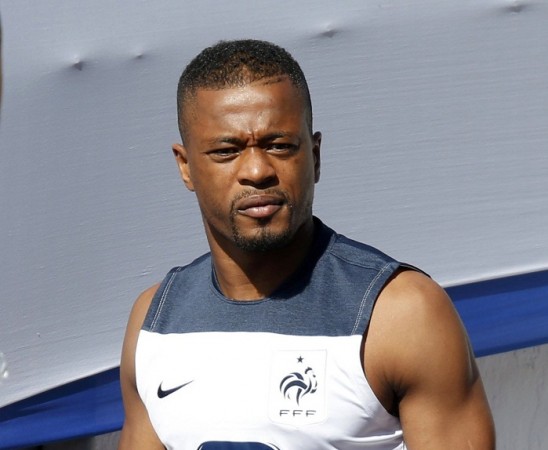 Frenchman Patrice Evra has signed for Juventus on a two-year deal after the Italian champions agreed a £1.2 million fee with Manchester United.
Evra, who joined the Red Devils from Monaco in 2006, recently extended his contract with the English Premier League club but United allowed their left-back to leave when approached by the Serie A champions.
The French defender, after joining Old Trafford at age 24, scored 10 goals in 379 appearances for the Red Devils. He won five Premier League titles, the Champions League, three League Cups and the Club World Cup with United.
Evra also captained the Old Trafford club in the absence of Nemanja Vidic and was named in the UEFA Team of the Year in 2009.
"Joining and playing for Manchester United has been a privilege, a dream come true and my time here has been so memorable," Evra said. "Through the good times and the bad times we have all stuck together and remained loyal. I have always said you don't just join Manchester United, you join the family and long may that tradition continue.
"An immense thank you to Sir Alex Ferguson for making it all possible, for giving me the privilege to be a captain, to be inspired by the legend of Manchester United and to understand that nobody is bigger than the club."
The French player, who would have competed with newly-signed left-back Luke Shaw for a place in Louis van Gaal's starting XI, said, after spending eight seasons at the Old Trafford, it is the right time for him to leave.
"After a great deal of thought I have decided the time is right for me to leave," Evra insisted. "It is the biggest decision of my career as this club is and will always remain, in my heart."
Evra's exit means United have lost three senior figures in the defensive line this summer, with Vidic and Rio Ferdinand also making their exits. United is inching close to sign Belgium defender Thomas Vermaelen from league rivals Arsenal to fill the void left by the departure of Ferdinand and Vidic.
However, the club is prepared for life after Evra, after signing Shaw but they are also looking to sign a back-up left-back for the forthcoming season, as Alexander Buttner has joined Dinamo Moscow.
"There's a lot going on behind the scenes so watch this space," United vice-chairman Ed Woodward said. "We've been working with Louis over several weeks with regards to targets and we're continuing to move forward on some of those targets. We are still a huge attraction to top football stars around the world."