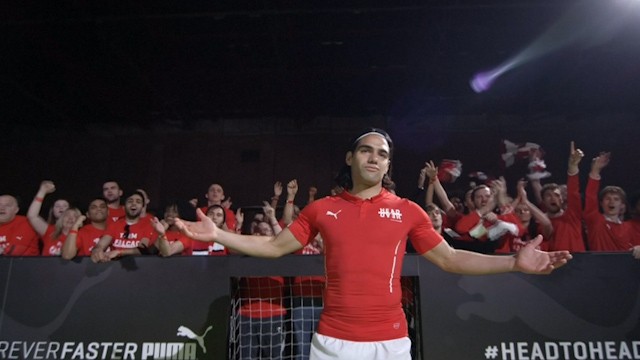 Manchester United have confirmed that they have not taken up the option of signing on-loan striker Radamel Falcao on a permanent basis and the Colombian has returned to AS Monaco.
With his tremendous goal-scoring records in Portugal and Spain, Falcao was expected to be an instant hit in the Premier League like Chelsea's Diego Costa (who moved from Atletico Madrid to Stamford Bridge for £32 million last summer) when he completed a sensational £6 million loan switch from AS Monaco last summer.
However, the 29-year-old has been a bitter disappointment this season, managing only four goals in the Premier League this season.
As a result, Red Devils were not expected to take up the option to permanently sign Falcao for £43.1 million this summer. And now they have confirmed that Falcao has returned to AS Monaco.
"Radamel Falcao has returned to AS Monaco following a season-long loan spell at Manchester United," read a statement on the club's official website.
Manchester United boss Louis van Gaal also wished the striker good luck for the future via the club's official website.
"Falcao is a top professional and a good human being. On behalf of myself and everyone at the club I would like to wish him well for the future."
Despite his poor form this season, Falcao is expected to join a new club this summer, with a number of top teams including Chelsea, Liverpool and Juventus believed to be interested in signing the striker.
Meanwhile, Van Gaal despite being all set to go on an extended holiday soon, after getting absolutely no time to relax last summer due to him being involved in the 2014 World Cup with the Netherlands national team (whom he guided to a third place finish in Brazil), says that he will be in touch with Manchester United executive vice-chairman Ed Woodward for any potential signings ahead of the next season.
"I am the manager. I have to decide which players are to go and which have to come. That is a process. It is not so easy. It is waiting for clubs to agree or not," the 63-year-old Dutchman told BBC.
"It is hard work, but more for Ed Woodward than me. I go on holiday but I will always be in contact."