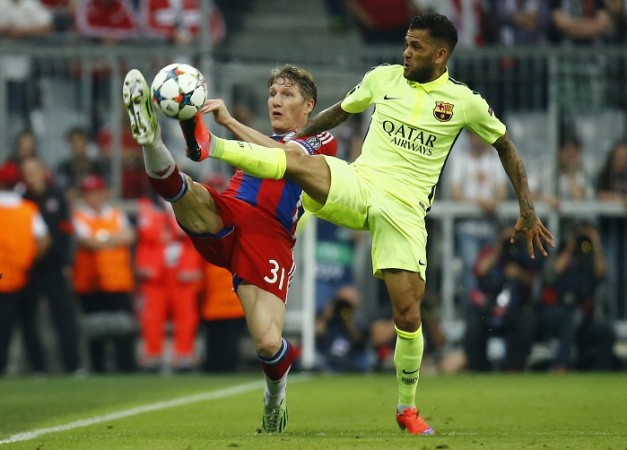 Barcelona defender Dani Alves will reportedly sign for Manchester United in the next few days, following reports of the Brazilian successfully agreeing on personal terms with the Red Devils.
United were heavily linked with the 32-year-old experienced right-back, who is out of contact this summer, but were dealt a blow after Barcelona chairman Josep Maria Bartomeu recently hinted that the Brazilian would be extending his stay at the Nou Camp.
Alves, who has always claimed he is happy at Barcelona where he has found a lot of success, winning plenty of silverware, including four La Liga titles and two Champions League crowns, and it looked like he was going to stay with the Spanish club.
However, the Metro claim that Alves will be heading to Old Trafford this summer, due Manchester United offering him much better wages as well as a generous signing-on fee.
United will certainly benefit from the addition of Alves, as manager Louis van Gaal has been using Antonio Valencia as a makeshift right-back this season, after being dissatisfied with the performances of Rafael.
Although the Red Devils have also been linked to Southampton's right-back Nathaniel Clyne, signing Alves will be much easier and less costly as the Saints are unlikely to let the 24-year-old leave at a cheap price, especially with the fullback being pursued by a number of top clubs, including Chelsea.
Alves is also a much more experienced player than Clyne, having played at the topmost level for most of his career.
Meanwhile, Manchester United are reportedly facing an extra £17 million in their wage bill, due to the return of unwanted winger Nani. Nani earns around 110,000-a-week until the end of his contract in 2018.
The 28-year-old winger, who signed a new five-year contract at Old Trafford in September 2013 during the reign of former boss David Moyes, has been deemed as surplus to requirements by van Gaal.
Due to this reason, he was sent on loan to Sporting Lisbon last summer, as a part of the deal that saw defender Marcos Rojo complete a £16 million move to United.
However, the Red Devils have continued to pay Nani's wages during his loan spell at Sporting, with the Portuguese side not being able to afford his salary.
Although the Portuguese enjoyed a successful time at Sporting this season, it is unlikely he will be joining them permanently this summer, as he is reportedly not willing to take a pay cut.
United are reportedly keen to sell Nani this summer, but his huge wage demands may prove to be a stumbling block for all interested clubs.
So, unless the Red Devils convince Nani to take a pay cut and join another club, they may well end up paying his wages of 110,000-a-week until the remainder of his contract.