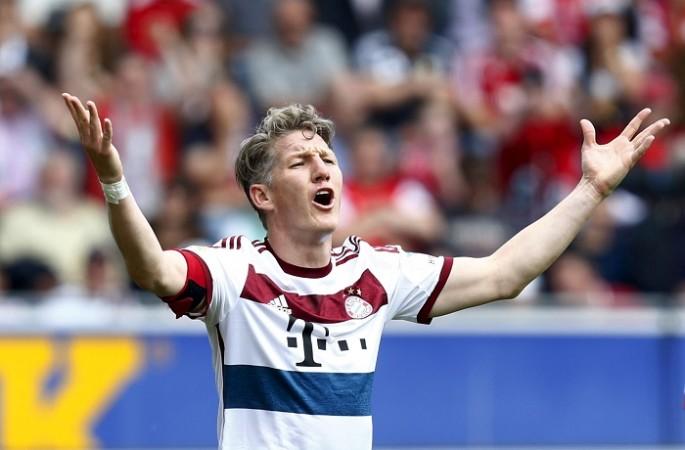 Bayern Munich star midfielder Bastian Schweinsteiger could well be on his way to Manchester United in the upcoming summer transfer window. United's transfer negotiator Ed Woodward has been given a green signal to go ahead with the process, reported the telegraph.co.uk.
The 30-year-old midfielder, who will turn 31 this August, would be costing around £7.5 million and United boss Louis Van Gaal is confident that he can rope in this playmaker in the summer transfer window.
Van Gaal who has managed Schweinsteiger before (while he was the manager of Bayern Munich) rates him very highly and feels that the German player would be a great addition to the team at Old Trafford.
Red Devils are yet to bid for Schweinsteiger but they are optimistic that they can lure the world-class midfielder from Bayern Munich with a tag of £7.5 million.
"Schweinsteiger needs a coach who will play him according to his strengths, and Van Gaal will do that," German football legend Lothar Matthaus said in an interview to the telegraph.co.uk.
United have been linked with Schweinsteiger of late pretty frequently and are reportedly closing in on sealing the deal. The Red Devils have also been linked to Schweinsteiger's teammate Jerome Boateng, but his deal could be wrecked by his girlfriend because she does not want him to shift to Manchester as she had a torrid time when she was there four years ago, reported the Daily Star.
Boateng was reportedly unhappy playing as a right back at his current club and wanted to play as a full back. Van Gaal would have been happy to play him as cetral defender and at times Boateng might be asked to take up the right back role as he has been doing for his current club Bayern Munich.
Meanwhile, Mario Mandzukic has reportedly agreed to a deal with Juventus as the player is on his way out from Atletico Madrid because of his relationship with the coaching staff, especially Diego Simeone. Mandzukic was a prime target for Van Gaal who he thought would be a replacement for Radamel Falcao.