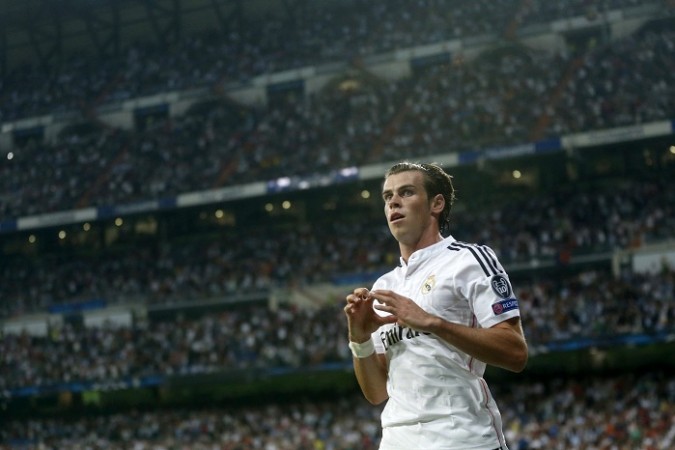 Manchester United's hopes of signing Gareth Bale have received a major setback after Real Madrid president, Florentino Perez made it clear that the club will not be parting ways with the Welshman at any price.
Bale has been heavily linked with a move away from the Bernabeu to Old Trafford with Luois Van Gall ready to break the bank and make an audacious offer of £120 million.
Gareth Bale was brought to the club for a record transfer fee of £85.3 million from Tottenham Hotspur. During the time as well, Manchester United were eager to sign the player but the deal could not be pulled off as Bale preferred a move to Real.
As of now, it seems unlikely that the player will be sold to the Red Devils, even if a huge offer comes through.
"Every club knows that Gareth Bale will never leave Real Madrid and that the club will not discuss their star, no matter how much is offered,'' Perez told Spanish paper Marca. This just shows the importance of the player to the Los Blancos.
Though, there have been several reports claiming a potential move for Bale from Real Madrid, the La Liga giants have not received any offer, revealed Perez.
"We have not received an offer from Manchester or any other club for Gareth Bale."
After signing for Real Madrid, the player has been a huge asset, scoring goals quite consistently. He has scored 11 goals this season so far, while he finished last season with an impressive tally of 22 goals.
Bale, along with Cristiano Ronaldo and Benzema, form a potent trio of attacking players.
Manchester United have also been linked with a move for Cristiano Ronaldo, and Perez insisted both Ronaldo and Bale are vital for Real Madrid.
"Just as I can't imagine Real Madrid without Cristiano Ronaldo, I can't imagine Real without Bale either."
Such statements from Perez would suggest, it might be time for Manchester United to turn their attentions elsewhere.