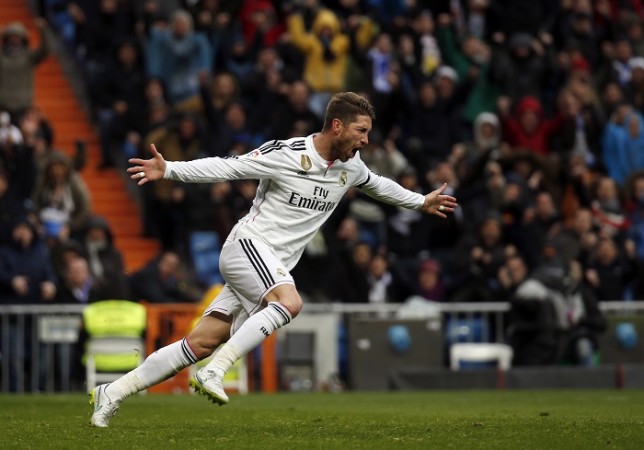 Sergio Ramos rose above all to equalise against Atletico Madrid in the UEFA Champions League 2014 Final and gave Real Madrid the opportunity to lift the 10th Champions League title. Later, he was promised by the club president Fiorentino Perez that if Real wins the title he would be offered "whatever he deserves."
Unfortunately, that did not happen and it sparkled the rumour of Ramos being unhappy at Bernabeu because the club failed to offer him a better contract. Ramos's current contract with Real Madrid expires in 2017.
Ramos's mother Paqui Garcia has opined that he wants to stay at Madrid as he loves Spain. When the reporters thronged her and asked about Ramos's departure from Bernabeu she said, "Of course, Real Madrid before all else."
Ramos and Manchester United have been heavily linked for quite some time now. And United are desperate to rope in this Spanish international star defender. The Red Devils have already made two official bids for him and the last one being £28.6 million. But Real Madrid have demanded £65 million for the Spanish defender.
If United agrees to pay £65 million for the star defender then it would break the British record signing fee of £59.7m, which United paid for Angel di Maria last summer. According to ESPN FC, sources from Real Madrid have said that they are keen on discussing with Ramos over a new contract.
Ramos now has the fifth-highest wage bracket at Bernabeu after Cristiano Ronaldo, Gareth Bale, Karim Benzema, James Rodriguez, Tonis Kroos and Iker Casillas. He earns around €5.5 million after taxes, reported Goal.com.
It has been a decade that Ramos has been with Real Madrid and he has featured in 455 games scoring 55 goals. He has won 10 major trophies with the club. During this span of 10 years, he has donned the Spanish International jersey 128 times.
His initial wish was to stay with Real Madrid, but if the club does not meet his demands then he might be headed to Old Trafford in this summer transfer window. If this deal gets done, then it will give major boost to the United defence line as well ahead of the new season of the English Premier League, which is scheduled to start from 8 August.