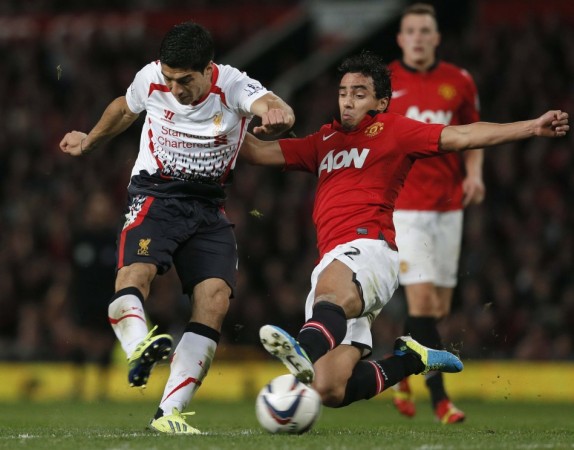 Rafael rubbished reports of him wanting to move back to Brazil and quit Manchester United.
Reports in Brazil suggested Rafael was keen on a return to his homeland, with Corinthians reportedly preparing an offer.
The reports also mentioned Rafael was keen to conclude a deal as soon, as possible as the right-back looks to get back into the Brazil squad for the 2014 World Cup.
However, as far as Rafael is concerned, he is quite happy at Manchester United, and has absolutely no plans on leaving anytime soon.
"I am not thinking about leaving Manchester United, especially since I did well last season," Rafael told Lancenet.
"There is no reason to leave now, I am playing here, I am a starter and I don't intend to return to Brazil."
Rafael has been with United since 2008, when he signed for the Old Trafford side along with his twin brother Fabio.
The fullback established himself as a natural first choice last year under Sir Alex Ferguson, and was one of the standout performers in the side that eased to the English Premier League title last season.
Rafael has not quite featured as much this season under new manager David Moyes, but that is primarily because of an injury he picked up during the curtain-raiser Community Shield match against Wigan.
He has returned to full fitness now and has featured in the last few of games, including in the weekend's 2-1 Premier League win over Sunderland.
United are also unlikely to listen to any offers for Rafael, who Ferguson said would soon be the best right-back in the world, in January, and the does seem like he is a part of Moyes' plans.
Rafael also gave his backing to Moyes, who has come under pressure at United after results have not quite gone their way in the early part of the season.
"It's never easy," he told Perform. "Obviously it's completely different because we had Alex Ferguson for 27 years but I think we all must get used to it.
"David Moyes has his own rules but, of course, he is not going to change everything, especially because what was done before was proven to work well.
"Now he is introducing his touch but he is also keeping the basics."
Rafael believes Wayne Rooney belongs at Manchester United, after a summer of speculation linking the striker with a move to Chelsea, ended with him staying at Old Trafford.
"There was too much talk about Rooney leaving," the right-back added. "He was always silent about it. Now he is very relaxed.
"He belongs to Manchester United. He has been here for so long now, (for) almost a decade.
"The fans love him and I think he will stay here for a long time."