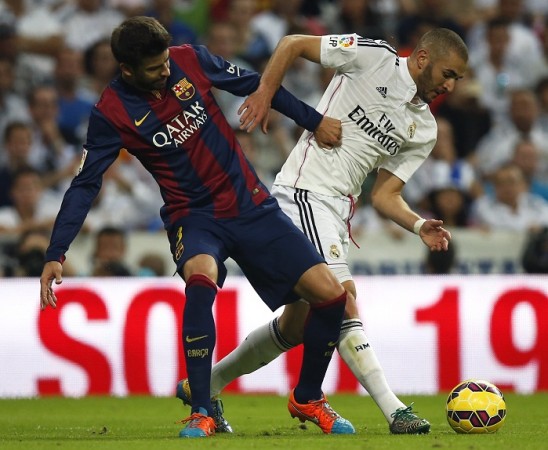 One of the central defenders to be linked with a move to Manchester United is Barcelona star Gerard Pique, with the Spain international being tipped for a return to Old Trafford.
Louis Van Gaal is looking at the option of buying a central defender in the January transfer window, with Manchester United linked with several names including Mats Hummels, Nemanja Vidic and Aymeric Laporte.
Pique is another name that has been thrown into that particular hat, with Chelsea also thought to be interested in signing the 27-year-old.
The centre-back has struggled to nail down a regular place in the starting lineup under new Barcelona manager Luis Enrique, which has led to suggestions he could move on in the January transfer window.
There should be plenty of suitors ready to take him on board if that were to become the case, with two of them being Manchester United and Chelsea.
However, according to his former teammate at Manchester United, Paul Scholes, a return to the English Premier League might not be the greatest of ideas for Pique.
"It will be interesting to see if my former teammate Gerard Pique will return to the Premier League should Barcelona decide to sell him," Scholes wrote in his column for the Independent.
"He has been left out the side of late by Luis Enrique and, although he is a very talented defender, I have always thought that Spanish football, and Barcelona in particular, suits him best.
Scholes believes Pique will struggle to adapt to the pace of the Premier League, where defenders, or any other player for that matter, is given very little time on the ball.
"He likes being in a side that keeps possession," added the Manchester United legend. "He is great at home but playing away at the big teams in England is a completely different prospect for a defender.
"His success at Barcelona and with Spain has been incredible. But I think Gerard would find it harder back in the Premier League."
While Manchester United have tightened up at the back in the last three games, conceding just two goals, Van Gaal will welcome a central defender who can command the backline and minimise the mistakes which have hurt the team time and again this season.