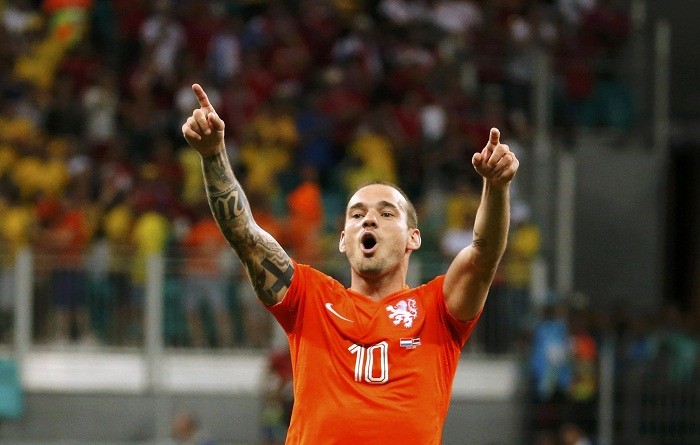 Netherlands midfielder Wesley Sneijder could join Manchester United as Galatasaray has said that the Dutchman is available for sale if a club can match his release clause of £16 million (20 million Euros).
The Premier League club has a long-standing interest in the Dutch international and he was linked with a move to Old Trafford in 2013 but the deal never materialised. Sneijder then joined Turkish club Galatasaray for 7.5 million Euros from Italian club Inter Milan.
Galatasaray president Unal Aysal recently revealed that if his club gets an offer of 20 million Euros for Sneijder, they will not come in his way.
"Sneijder is a good player," Aysal told to reporters. "We want to keep him at Galatasaray."
"If Galatasaray receive an offer of 20 million Euros, we do not have the luxury of saying no. That is stipulated in the contract. All I can say is that if any club pays us 20 million Euros and he wants to go, we can't force him to stay because it is written in the contract."
Aysal was addressing the media following the appointment of former Azzurri boss Cesare Prandelli as the new coach.
Newly-appointed coach Prandelli admitted that Sneijder is an important player for both country and club and he closely followed Dutchman's performance in the World Cup.
"He is one of the most important players for Netherlands and Galatasaray," Prandelli said.
United have regained interest in Sneijder, following the appointment of their new coach Louis van Gaal, as his attacking qualities could come handy for the Red Devils, who are looking to rebuild their squad after a disastrous Premier League season.
Sneijder had earlier said that he is happy with the Turkish giants but hinted that he can think about joining the Red Devils if been asked to by their newly-appointed boss van Gaal.
"In the Netherlands, Van Gaal is something like the head teacher of a school. Not everyone is lucky enough to get into his good books," Sneijder said. "He trains his players very hard, and always expects the highest standards.
"I am happy at Galatasaray, I have established myself at the club and have settled in," he said. "However, if Van Gaal were to make me an offer, I would have to at least consider it. Nobody from the Netherlands can simply reject Van Gaal."