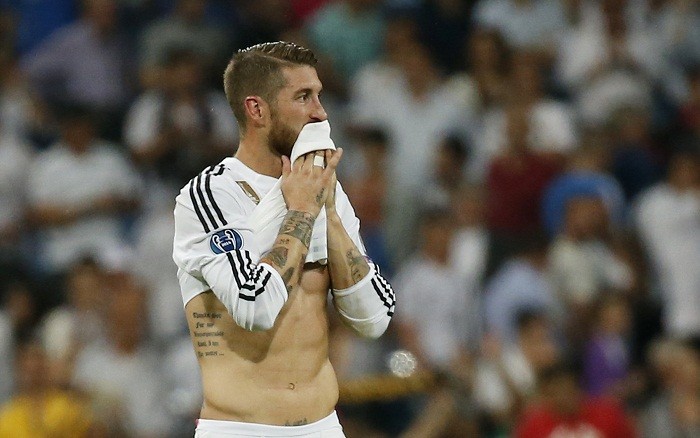 Manchester United have cranked up the pressure on Real Madrid by putting in an official bid for Sergio Ramos.
Ramos has reportedly asked Real Madrid to let him leave this summer, after failing to agree on a new contract and also owing to frosty relations with current president Florentino Perez.
Manchester United, sensing the unrest, had asked for Ramos to be sent the other way to Old Trafford during negotiations over a move to the Bernabeu for David De Gea, but the Premier League club are now happy to negotiate a separate deal for Ramos.
United have put in an official bid of £35million for Sergio Ramos, according to the Daily Mail, and the player has reportedly told Real Madrid to consider the offer.
Ramos and his representatives held talks with Real Madrid on Wednesday, and the outcome of those talks was Ramos making it clear he wants to leave the Spanish club this summer, according to the Guardian.
If that turns out to be true, Real Madrid's hand will be forced and they will have little choice but to consider a sale. For now, though, Real's stance remains the same – that Ramos will be sold only if his buyout clause of €180million (£128m) is met.
However, following talks with Ramos, who has two years to run on his current contract, but is miffed at the new terms offered by the club, it does look like it is only a matter of time before Real Madrid start considering the offer that Manchester United have put on the table.
Pedro Riesco, one of Ramos' confidantes, said the likelihood of the centre-back leaving Real Madrid this summer is pretty high, with too many bridges being burnt already.
"With everything that has happened it will be very difficult for Sergio Ramos to stay at Madrid," Riesco told Radio Marca.
"Sergio is a symbol of this club. He has nothing to prove. But so many things are being said about him.
"There is so much manipulation to discredit his name via spokesmen who behave like puppets saying he is not respecting the club and that he is just a money-grabber."