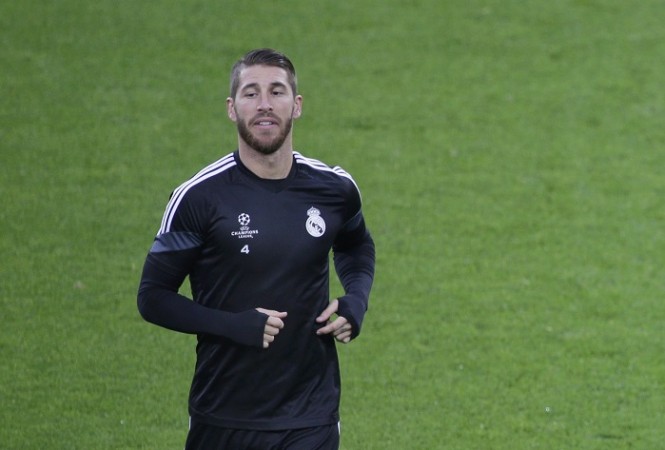 Spain international Sergio Ramos will not be a Manchester United player this summer. The versatile defender has reached an agreement with Real Madrid on a fresh deal that will allow him to ply his trade at the Santiago Bernabeu atleast until 30 June, 2020.
The story of the new contract was reported by Spanish daily Marca.
Ramos will be 34 by the time his reported new contract expires at Los Blancos, and it looks like the Red Devils' chase for the defender has finally come to ane end.
"It's like he's betrayed United", an unnamed United source had said to British daily Daily Star, just a couple of days back.
However, if the whole situation is seen from the Spaniard's perspective, it does make sense for Ramos to stay at Real and draw curtains on his illustrious career at the club five or more years from now.
The main reason being there's nothing to lose if he stays at Real, and he can only affirm his legendary status at the Santiago Bernabeu.
Fresh talks of a contract extension for the Real Madrid skipper began last Sunday in China where Real are currently touring. The meeting took place between Real president Florentino Perez, club general director Jose Angel Sanchez, and Ramos' agent and brother, Rene.
The discussions brought to the conclusion that Ramos will reportedly receive just under €9m per season after tax. Other incentives like bonuses are also added on in the new deal.
The report from the Spanish daily also stated that the agreement between the player and the club "is already reached and will be made official before the start of La Liga season [23 August]."
"It now looks like he was playing a game all along. In the end it appears all he wanted was a new contract at Real..." the source from United had added to the English newspaper.
What next for United is the big question, following the end to the 'Ramos to United' transfer saga.
Those following the developments of Louis van Gaal's side closely this summer will know that the club have also got eyes on Argentina international Nicolas Otamendi as their other defensive target.
But is the inclination for the Valencia defender as heavy as that for Ramos?
Daily Mail reported just a day back that Van Gaal is not willing to pursue any defender this summer if they fail in their pursuit for Ramos. So, it virtually seals the fate of any other defender making a probable move to the Theatre of Dreams atleast this summer, if the report is to be believed.
Van Gaal is believed to be deploying two holding midfielders in a 4-2-3-1 formation in the upcoming season for United, and he is also content with the defensive options he has got at his club's disposal now.
The performances of Daley Blind and Phil Jones in preseason have impressed the Dutchman, and with a wide range of other options in Chris Smalling, Marcos Rojo, Paddy McNair and Tyler Blackett, as well as Jonny Evans, Van Gaal sees enough reasons not to go for Otamendi.
There are fresh reports, however, that suggest Manchester United are ready to rival Chelsea for Everton defender John Stones. Whether more comes of that or not remains to be seen.
New recruit Matteo Darmian and Luke Shaw also are the options in the fullback position, and the duo, along with Jones and Blind, started the International Champions Cup against PSG.
The ex-Bayern manager also knows that holding midfielder, Michael Carrick, if needed, can be deployed as a centre-back.
The attention also switches to United custodian David de Gea. A mooted swap deal involving Ramos and De Gea has made headlines all summer. But now, the situation gets more interesting with Ramos agreeing to remain at Real.