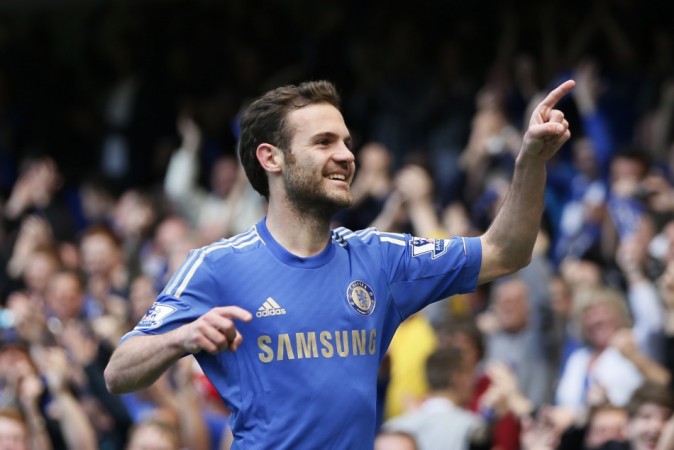 Manchester United have been linked with a shock transfer for Chelsea attacking midfielder Juan Mata. According to ESPN, United have made an informal inquiry to Chelsea concerning the availability of the Spain international.
With David Moyes yet to make a signing of significance this transfer window, the purchase of Mata would go a long way towards strengthening his squad. The Spaniard plays in a position that United are keen on strengthening as evident by their pursuit of Luka Modric and Cesc Fabregas.
Mata was one of Chelsea's star performers last season and is believed to be a favourite of owner Roman Abramovic. Jose Mourinho, on the other hand, is rumoured to be willing to sell the player in order to strengthen areas of the squad.
Mourinho left Mata on the bench for Chelsea's opening day home win against Hull City. Although the player started the mid-week fixture against Aston Villa, he was substituted after 65 minutes.
With Chelsea known to be pursuing United striker Wayne Rooney, a deal involving Mata could be a possibility. However, there has been no indication from either club that such a deal is being considered.
With Chelsea and United likely to be battling each other for the Premier League title, both clubs will be understandably apprehensive over conducting transfer business with one another.
Mourinho's return to Chelsea, considering the success achieved during his first stint at the club, has made the London team one of the favourites for this year's title. United defender Jonny Evans believes it remains to be seen whether Mourinho will turn Chelsea into title winners once again.
"Everyone's been saying that he will make a big difference to Chelsea but we'll have to wait and see if that will be the case," Evans told the Mirror. "Mourinho's a good manager and I am sure he'll make a big impact on them."
"But it's maybe going to be over the next month or two before we realise who's going to be challenging for the league, he continued.
"I think Mourinho had that spell at Chelsea where he gave them a lot of confidence and they were successful at that time. But it remains to be seen if he can have that impact again."