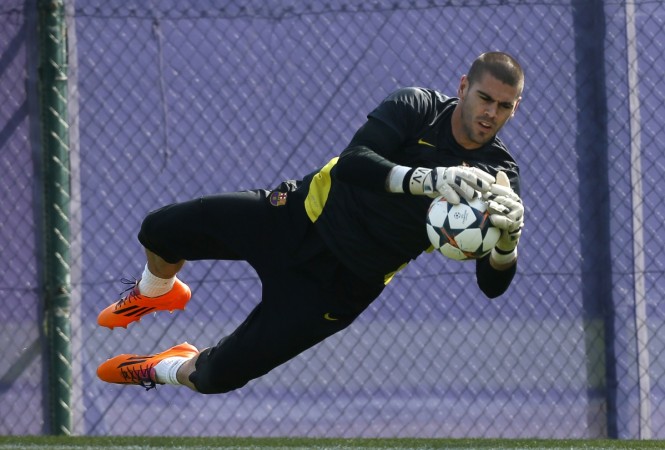 Manchester United are reportedly willing to offer a contract to former Barcelona goalkeeper Victor Valdes if he manages to prove his fitness over the next couple of weeks.
The Red Devils recently announced that the 32-year-old goalkeeper will be training at Old Trafford to regain his fitness following a lengthy spell on the sidelines due to an anterior cruciate ligament injury he sustained while playing for Barcelona in March.
"Manchester United manager Louis van Gaal has offered the 32-year-old former Barcelona goalkeeper Victor Valdes a chance to complete his rehabilitation from a knee injury and to work his way back to fitness with the club," read a statement in the club's official website.
And according to ESPN, van Gaal, who handed Valdes his Barcelona debut in 2002, is willing to offer a contract to the Spaniard if he manages to prove himself in training in the next couple of weeks.
Valdes, who refused to sign a new contract with Barcelona, insisting that he wanted to move on to a new challenge, was earlier being strongly linked with a move to Ligue 1 side AS Monaco, but the move fell through following the Spaniard's injury.
Recently Liverpool were also being linked to Valdes, with Reds boss Brendan Rodgers keen to get a new goalkeeper to challenge current first choice Simon Mignolet.
However, the move also fell through after the Spaniard reportedly refused to undergo a trial at Anfield.
Although United's current first choice goalkeeper David De Gea has been in good form, with his performances catching the eye of Real Madrid, the Red Devils will certainly be boosted by the addition of Valdes, who has a lot a of experience at the top most level.
Meanwhile, Robin van Persie says that he is expecting a close match when Manchester United play hosts to Chelsea on Sunday.
While the Blues are currently in a hot streak, winning seven out of their eight opening Premier League fixtures, United have struggled this season, managing only 3 wins from their opening eight games.
Due to this reason Chelsea are being considered the favourites for this game. However, van Persie, who himself has been criticised for his jaded performances of late, insists that the match is going to be very "edgy."
"Chelsea have a very good team and we have a good team. But it's always a bit more edgy and I like that. You can sense that as well with the fans because they are a bit more on top of it in games like this. So in every way it's a game to look forward to," the Dutch striker told the Daily Mail.
"There's always a bit of a different feeling but it's not that we're less concentrated for other games but there's a bit extra tension in a good way. You don't really know what's going to happen before the game because it can go both ways."