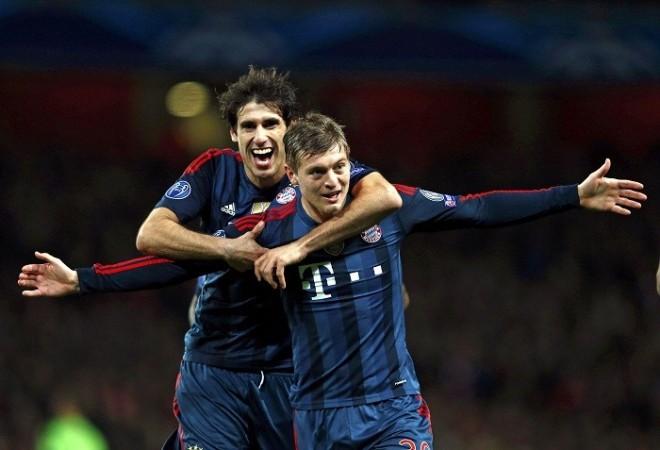 Bayern Munich have such a strong team at the moment, that they can probably dictate terms, to a certain extent, when it comes to locking down their players' futures.
With Toni Kroos stalling on signing a new contract with the German and European champions, reports continue over Manchester United's interest in the midfielder, who was the best player on the pitch in the 2-0 Champions League win over Arsenal last week.
United were linked with the German international during the January transfer window, and David Moyes is ready to make a firm offer for Kroos, with an offer of a lucrative contract worth around £250,000, according to reports in the UK.
A transfer fee of £30 million has been mooted, with Kroos, if he chooses to snub Bayern's offer, set to earn three times the salary he currently makes at the Allianz Arena.
However, Bayern and German legend Franz Beckenbauer warned Kroos, whose contract ends in the summer of 2015, about holding out for too much money.
"He shouldn't raise the stakes too high," Beckenbauer told Sky Germany. "Bayern will make an effort to keep him, but when the demands are too high, a decision will be made.
"There is no player who you have to give everything to keep. Everyone is replaceable."
Kroos, though, undoubtedly is a vital cog in Bayern's machine, even if the midfielder has blown hot and cold under Pep Guardiola this season. "We know that he is a very good player and we want to continue with Kroos," Bayern sporting director Matthias Sammer said. "Everyone at the club sees it that way."
With Juan Mata, Wayne Rooney and Adnan Januzaj currently occupying the advanced midfield/forward positions, Kroos, if bought in the summer -- a big if of course -- could be used by Moyes in a deeper role.
Against Arsenal, Kroos showed his quality in spades, scoring a wonderful goal to open the scoring, while also playing the ball that allowed Arjen Robben to force Wojciech Szczesny into a costly mistake, which eventually turned the match in the German side's favour.
There is little doubt that Kroos will add to United's firepower and technical ability considerably; but convincing Bayern to let go of one of their prized assets, even with the current contractual situation, will be easier said than done.