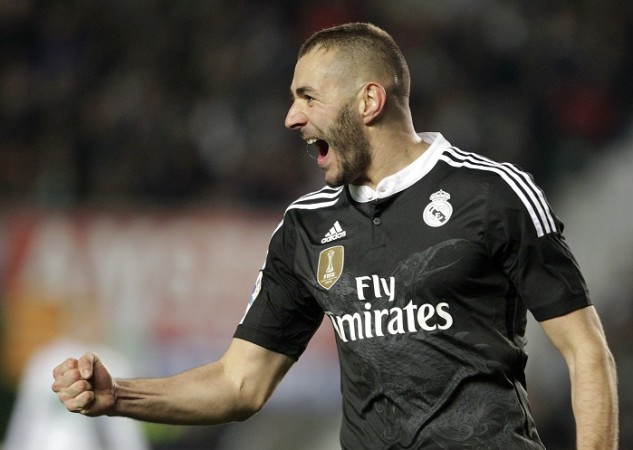 Manchester United are determined to sign Karim Benzema from Real Madrid in the summer transfer window, with the club's executive vice-chairman Ed Woodward already holding talks with the player's agent.
Louis Van Gaal wants a top striker to be bought during this transfer window, after the struggles of last season. Wayne Rooney, who scored just 14 goals, was United's top scorer last season, which shows the club definitely need a goalscorer up front.
With Radamel Falcao let go and Robin Van Persie's future in serious doubt, Manchester United are expected to sign a high-profile striker this summer. Benzema is reportedly Woodward and Van Gaal's No.1 target, and according to the Manchester Evening News, the executive vice-chairman held talks with the player's agent this week.
The report says Woodward met up with Karim Djaziri, Benzema's representative, in London on Wednesday, and the possibility of a switch to Old Trafford was apparently discussed.
If Manchester United can pull off the signing of Benzema, it will be seen as a major statement of intent going into the new season.
Much depends on how new Real Madrid manager Rafa Benitez views Benzema, and if he considers the Frenchman integral to his plans for next season.
Benzema is also one of the favourite players of the don't-know-what-he-is-going-to-do-next Real Madrid president Florentino Perez, which again makes this transfer a little trickier.
If Benzema, who is also reportedly wanted by Arsenal, is keen on a move to the Premier League, though, the path will open up considerably, while Manchester United should have no problems shelling out the kind of money that Real Madrid are expected to ask for, believed to be in the £40 million range.
Manchester United could also use the seemingly-inevitable David De Gea switch to tempt Real Madrid to consider selling Benzema. With De Gea looking likely to sign for Real Madrid this summer, as he continues to stall on a new contract offer from the Premier League club, asking for Benzema in return, with a little more cash going to Real as well, might be a possibility.
There is no doubt that United will miss the services of De Gea considerably, even if they already have an able replacement in Victor Valdes, but that blow would be considerably softened if Benzema moves the other way, with United getting the marquee striker they wanted and also being able to spend more time on signing a possible replacement for De Gea, be that Hugo Lloris or even Petr Cech.