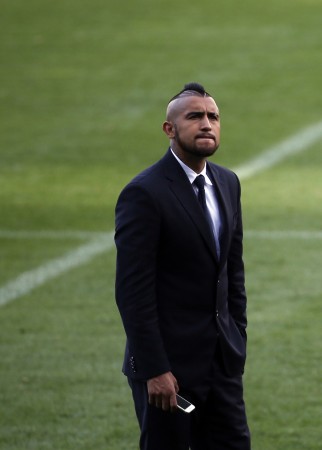 The Arturo Vidal to Manchester United saga has again been reignited following reports that Juventus are willing to part with their Chilean midfielder for £40 million in the January transfer window.
The 27-year-old Chilean's future was subject to a lot of speculation this summer, with Manchester United being heavily linked to the former Bayer Leverkusen man.
While some reports suggested that Vidal's representative had flown to Manchester to complete all the formalities of the deal, others indicated that the Chilean had successfully undergone a medical at Old Trafford.
However, all these speculations were shot down after Juventus general director Giuseppe Marotta insisted that Vidal was happy and would be continuing on at Juventus.
Now, the plot seems to have taken another twist as fresh reports in Italy claim that Juventus are willing to cash in on their star midfielder.
According to the Express, Juventus are tired of Vidal, who is pushing the Serie A side's patience "to the limit" with his continued tantrums.
While many believed that Vidal was left out of Juventus' dramatic 3-2 win over Roma on Sunday due to tactical reasons, it was later revealed that the Chilean was dropped after he arrived late for training on Friday following an alleged bar fight the night before.
As a result, Juventus, who also slapped Vidal with an £80,000 fine, are reportedly ready to wash their hands off the Chilean in January.
The Red Devils will definitely be interested in Vidal as the Chilean will be able to provide more stability to their midfield.
While Manchester United have been boosted in their quest for Vidal, they seem to have run out of luck in their pursuit of Kevin Strootman as Roma have warned Louis van Gaal's side that the Dutchman will not be sold at any cost.
Last month it was reported that Roma were willing to part with their Dutch midfielder for a transfer fee of £60 million and the rumour was further fuelled by the news of Strootman sacking his agent and hiring Kees Vos, who is also the representative for Robin van Persie and Louis van Gaal.
However, Roma owner James Pallotta has again dismissed all the speculations, insisting that the transfer is "just not happening".
"I have told the papers that they should stop wasting paper," Pallotta told BBC Sport. "We don't have any interest in selling Kevin.
"Obviously as business people when people call us and say, 'We want your player,' you are going to listen to them. You have to do that - that is the business side.
"That doesn't mean you are going to make a decision that [an offer of] £75m - bang, you hit the bid. That is not the way it is going to work, it is not the way it does work with us."