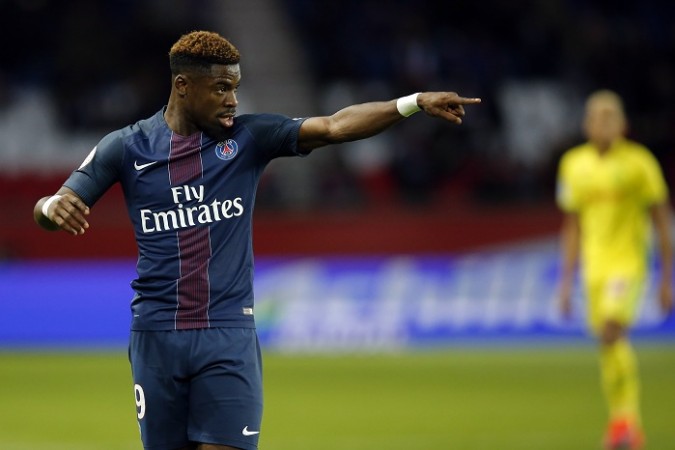 The list of players who have been linked with a possible move to Manchester United keeps on increasing with Paris Saint-Germain right back Serge Aurier being the latest to be linked. Reports say that Aurier has already agreed a move to Manchester United in principle with Jose Mourinho looking for some competition and a long-term replacement for Antonio Valencia.
Valencia has been one of Manchester United's most consistent performers this season and the Ecuadorian has undoubtedly established himself as one of the best right backs in the Premier League. United do have Italian Matteo Darmian who could take over from Valencia, but Mourinho is not entirely convinced with him.
Also read: Jose Mourinho targeting moves for two Monaco full backs
One of the main reasons why Mourinho wants to sign Aurier is because he wants to pair him up with his compatriot in Eric Bailly on the right side of Manchester United's defence.
Aurier himself is regarded as one of the most promising right backs in the world at the moment but the Ivory Coast international has been gaining a reputation for his work off the football pitch in recent times.
During his time at PSG so far Aurier got into a fight with a police official outside a night club and was handed a suspended two month prison sentence. Because of that incident he was not granted a visa permit to enter the UK during his teams match against Arsenal in the Champions League.
Checkout some of Serge Aurier's best work for PSG so far.
He also got himself banned by the UEFA for insulting a referee during a match in which he wasn't even playing. He was also banned by officials from his own club after he insulted his own team mates and manager on social media.
PSG and Manchester United are yet to come out with an official statement since reports broke out that Aurier has agreed to move to Manchester United. If Aurier were to join Manchester United over the summer, it would certainly put an end to Darmian's time at the club with the Italian already struggling to get first team action.
Aurier still has two years left on his current PSG contract so Manchester United will have to pay a huge amount for him with a fee of around £25 million expected to be submitted.
Despite his antics off the football pitch, Aurier is still considered a top class defender in the world but he will certainly have to work on his disciplinary issues. PSG will not want to lose one of their best players but they do have Belgium international Thomas Meunier in that position so if the right offer comes in, they could be willing to let him go.