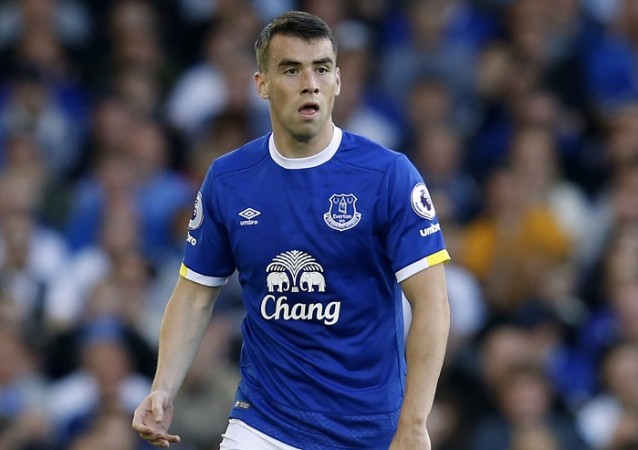 With Antonio Valencia, a natural winger, emerging as the first-choice right-back under Jose Mourinho at Manchester United, it is no surprise that the Portuguese is looking at other options in the transfer market. One of those options is reported to be Seamus Coleman, the impressive Everton and Republic of Ireland fullback.
Mourinho's first priority, always, is to make sure the backline is as strong as possible. Understandable too, because winning a title becomes infinitely more difficult when the defence is letting in sloppy goals.
While Valencia has done quite well at right-back this season, Mourinho realises the need for another option, someone who has played in the position for years. The Manchester United manager is clearly not convinced by Matteo Darmian, who has been a different player since that mauling at Arsenal, while Tomothy Fosu-Mensah is still too raw.
Coleman is a player who has been one of the best right-backs in the Premier League for a while, and Mourinho is ready to make an offer for the player who will turn 28 on Tuesday, according to the Sunday People.
Manchester United were linked with a move for Coleman when former Everton manager was in charge at Old Trafford, while Chelsea have also been constantly tipped to make a move.
However, Coleman has stayed at Everton despite all the links, and considering the club now have new, ambitious owners, the chances of them agreeing to sell one of their best players are extremely slim.
Manchester United, of course, have all the money in the world to make an outrageous bid, but, with all Premier League clubs now flush with cash, there really is no reason for Everton to sell.
Mourinho's team have bounced back from a run of three defeats, with the manager deciding to use a much more pacy attack, which in turn has meant Wayne Rooney sitting on the bench. With Ander Herrera and Paul Pogba impressing in midfield together as well, it will be interesting to see if Mourinho makes any changes when the Premier League returns next weekend.
Manchester United play Liverpool at Anfield in a blockbuster Premier League clash on Monday night.