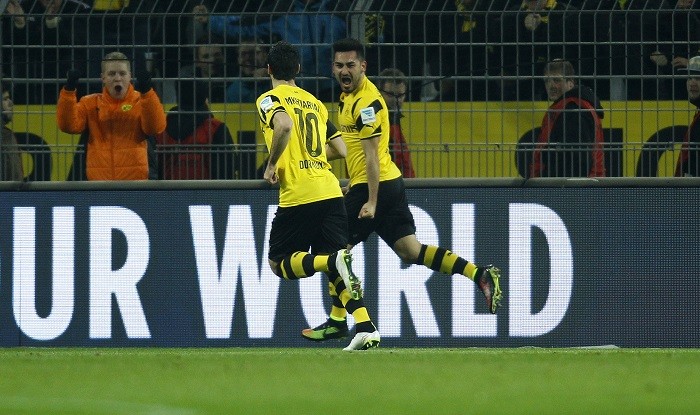 Ilkay Gundogan, saying he has had enough of all the transfer rumours, addressed the current state of affairs over a possible move away from Borussia Dortmund, with Manchester United and Barcelona heavily linked.
Every few days Gundogan has been the subject of transfer news, with either Manchester United or Barcelona reportedly inking his signature or being on the verge of sealing the transfer, with a medical apparently imminent.
All those rumours have come as a result of the midfielder stalling on a new contract with Dortmund, with the Germany international, currently, only having a year remaining on his deal.
Speaking about the transfer rumours, Gundogan said all will be known once Germany play their Euro 2016 qualifier against Gibraltar on Saturday.
"Normally I do not address media reports, especially not on Facebook, [however] I want to this time to explain some things and give you a better insight," Gundogan wrote on his official Facebook account.
"In recent weeks, I, like you, read again and again that where I was signing was already agreed. Today I am in contract negotiations here, tomorrow I'm having a medical check there.
"At first I could still smile about it but when there was talk of 'contract poker' and 'rip-off' that painted me in a bad light.
"Yesterday an ominous number [on salary demands] appeared in the media and so I have now decided to say something about it.
"What's important to me is that I'm not gambling financially or using delaying tactics. What's next for me personally, I will reveal as soon as possible.
"But only after the season and our important game for the European Championship qualifier with the national team."
Gundogan is reportedly seen as a long-term successor to Michael Carrick in the Manchester United side, who have the upper hand on Barcelona in that the European champions cannot make any signings in this summer transfer window, owing to a ban.
The 24-year-old will definitely add some quality to the still-iffy Manchester United midfield, but the question of "If he is still as good as he was before the major injury" remains, because the last thing Van Gaal will want is another player susceptible to injury.