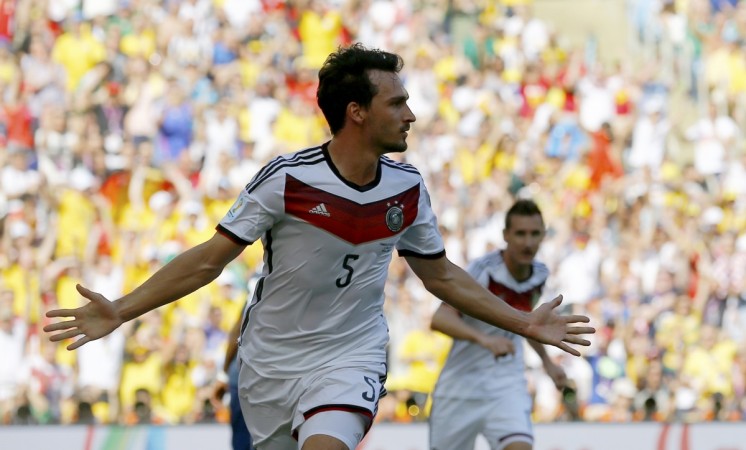 Borussia Dortmund defensive rock Mats Hummels will not be a Manchester United player at least this summer, the Germany international has confirmed.
The Red Devils have been pursuing the player for many seasons, especially following the end of the FIFA World Cup 2014.
After coming to Old Trafford, Dutch manager Louis van Gaal turned his attention to the 26-year-old, who won two back-to-back Bundesliga titles (2010-11 and 2011-12 seasons) with the Ruhr giants.
However, the Old Trafford side failed in their attempts last summer to snap him up from Borussia Dortmund, and this summer too they have failed in their attempts, as Hummels has decided to stay, following in the footsteps of his teammate Ilkay Gundogan.
"There have always been rumours about almost every one of our players, but I decided not to make the move this year," Hummels said in Singapore before his clubs' preseason friendly against Johor Southern Tigers of Malaysia.
The former Bayern Munich youth player has himself revealed that the is "honoured" to have attracted the interest from Man Utd, but he will stay with the Bundesliga side as of now.
"Of course when the big clubs are interested, and Manchester United is one of the biggest clubs in the world, it's an honour. But I decided I wanted to stay here," he added.
Hummels arrived at the Signal Iduna Park in January 2008, initially on loan from Bayern. However, he moved on a permanent basis the following year.
Over the course of seven long seasons, the center-back has clocked up 259 appearances for Borussia Dortmund, and soon became one of the most influential players of the club under former head coach Jurgen Klopp.
"I can only say that I am now committed to giving my best for Dortmund. When I came in 2009, I never decided I'll be here for five years or seven years," Hummels continued.
"I thought I might go back to Bayern Munich from where I came after a year or two. But here I am still part of the club and committed to taking it to greater heights."
His current contract at the Signal Iduna Park runs until the summer of 2017.
It is now to be seen whether Hummels can adapt well to new Dortmund manager Thomas Tuchel's plans. It must be noted that even his club mate Gundogan was heavily linked with Manchester United all summer, but the playmaker decided to stay on at the club following positive talks with Tuchel.
Gundogan signed a new contract with the Bundesliga side last week, and his contract runs until the summer of 2017 as well.
Meanwhile, United have turned their attention to Real Madrid star defender Sergio Ramos, and it was revealed a few days back that a deal between the player and the Premier League giants has already been agreed, with the fee involved believed to be a whopping £63.7million .