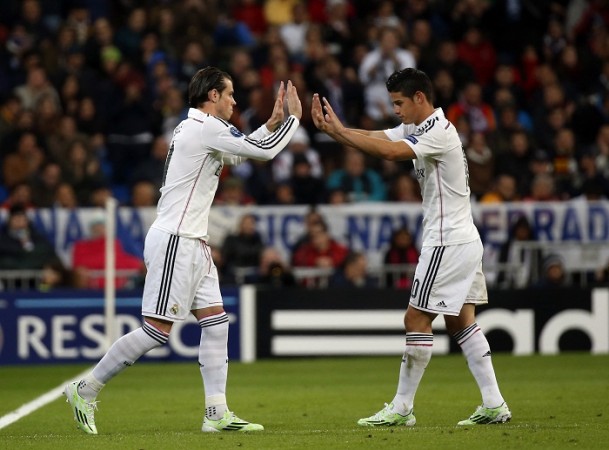 Manchester United have been given another encouraging sign of a possible Gareth Bale transfer next summer, with the latest reports suggesting Real Madrid are looking at the possibility of signing Eden Hazard from Chelsea as a replacement.
Bale has been heavily linked with a move to Manchester United in the recent past, with reports in Spain and England claiming Louis Van Gaal was ready to make a £90 million bid during the next transfer window, while also making the Welshman one of the highest paid players in the English Premier League.
Those reports also suggested Real Madrid have become a little frustrated with Bale's injury woes this season, with Isco fitting in perfectly in his absence.
However, Real Madrid manager Carlo Ancelotti rubbished those reports last week, insisting Bale remains important for his side, citing the winning goals he scored in the Copa Del Rey final and the Champions League final last season.
"It seems like many have forgotten that Gareth Bale scored in the Copa del Rey and Champions League finals," said Ancelotti last week when asked about the possibility of selling Bale to Manchester United.
"He is equally important as James Rodriguez and Isco."
While transfers at Real Madrid can never be predicted, there is little doubt that, at the moment, the Spanish giants are unlikely to want to sell Bale to Manchester United or any other club.
The only chance that United seem to have at the moment is if Bale, who made his return from injury as a second half substitute in the 1-0 win over Liverpool in the Champions League on Tuesday at the Bernabeu, feels a little homesick, and decides he wants to move back to the Premier League.
And, according to the Daily Express, who cite reports in Spain, Real Madrid are ready to offset the possible loss of Bale next summer by targeting Hazard.
While Bale to Manchester United looks unlikely, the chances of Chelsea selling one of their best players looks even slimmer, even if the club that come calling are Real Madrid.
The European champions have already broken the transfer record twice in recent seasons to bring in Cristiano Ronaldo and Gareth Bale from Manchester United and Tottenham respectively, and if they are to tempt Chelsea to let go of Hazard, they might need to break that record one more time.