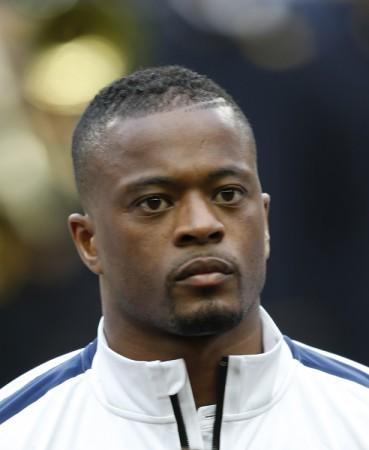 Manchester United left-back Patrice Evra has reportedly asked to leave the club as the Frenchman looks to secure his move to Juventus this summer.
Although Evra was expected to leave after the expiration of his contract this summer, United were forced to offer him a one-year extension, owing to the shortage of left-backs at Old Trafford.
However, now with the arrival of Luke Shaw from Southampton, the 33-year-old Frenchman knows that he will be restricted to the sidelines next season.
Apart from this reason, it is believed that Evra's wife wanting to move out of England is also a big factor in the Frenchman sudden decision.
As a result, Evra is eager to make a move out of Old Trafford, with Juventus reportedly interested in signing him this summer.
Despite not handing in an official transfer request, a report in the Guardian claims that Evra, who has won has won five Premier Leagues titles (2006/07, 2007/08, 2008/09, 2010/11, 2012/13), Five FA Community Shields (2007, 2008, 2010, 2011, 2013), three League Cups (2005/06, 2008/09, 2009/10), Champions League (2008) and Fifa Club World Cup (2008), does not want United to stand in the way if he receives some offers from other clubs.
Juventus, who are looking to wrap up the deal for £2m, are expected to offer Evra a two-year deal worth around £55,000-per-week
Despite the huge pay cut (Evra currently earns £90,000-per-week at Old Trafford), Evra will be tempted to join Juventus as the club will be able to offer him a regular spot in the first team as well as Champions League football.
Evra's departure will certainly be a big blow for Manchester United considering they have already lost two seniors defenders Nemanaja Vidic (transferred to Inter Milan) and Rio Ferdinand (retired).
Also, Evra absence will be felt in the dressing room as he is known for his leadership qualities and popularity.
Despite the recent arrival of Shaw, Manchester United, who is desperately looking to turn things around next season, will be looking to sign another left-back as a backup if anything happens to the England under-21 fullback.
The Red Devils are reportedly already weighing options – Wolfsburg's Ricardo Rodríguez and Arsenal's Thomas Vermaelen (who can play in the left-back position despite being a centre-back) – in case Evra departs this summer.
While Rodríguez will reportedly cost the Red Devils around £15m, owing to his good performances in the 2014 World Cup, Vermaelen, who made very few appearances for the Gunners last season, will be costing United a little less.