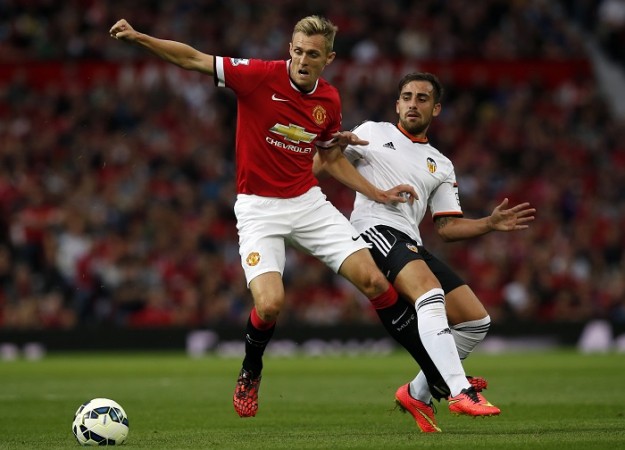 Manchester United have reportedly told midfielder Darren Fletcher that he can leave Old Trafford after the expiration of his contract this summer.
The 30-year-old midfielder, who joined United's academy in 1995, had been a regular first team player under Louis van Gaal during preseasons, but the arrivals of Angel Di Maria and Daley Blind have resulted in him falling down the pecking order.
As a result, the Scotsman has only made four starts in the English Premier League this season. And now United have reportedly told Fletcher that he can leave when his contract runs out after the end of this season, according to the Daily Telegraph.
However, it is believed that the Scotland international might make a move out of Old Trafford this month, with there being reports of West Ham United already offering the midfielder a three-and-a-half year contract.
Since Fletcher will be leaving the club before the expiration of his contract, it is understood that West Ham will have to pay United a transfer fee of around £1.5 million for his services.
Although the midfielder may have more options if he leaves Old Trafford in the summer, he will probably not be offered the same contract length.
Due to this reason, Fletcher, who has overcome a recurring stomach ailment (ulcerative colitis) following successfully surgery in July 2013, is expected to accept the offer from West Ham.
Meanwhile, Manchester United boss Louis van Gaal has demanded a better performance from his side in their upcoming fourth round FA Cup replay match against minnows Cambridge United at Old Trafford.
Although the Red Devils dominated possession at Cambridge, they failed to break down the League Two side and this resulted in them only managing a goalless draw at the Abbey Stadium.
And the Dutchman, despite admitting that his side found it difficult during the reverse fixture at Cambridge, wants the Red Devils to make amends in the replay fixture.
"I know in these matches every aspect of a game is against you," he said. "The crowd is against you - that is nice I think - but also the pitch and also the defensive organisation of the opponent. Everything you can imagine is against you.
"Cambridge are the weaker team - everybody knows that - and you have to solve that problem [of how to beat them]. You cannot always solve that problem and I have seen that a lot of times. But fortunately we are still in the FA Cup. We have to play at home and we have to beat them."