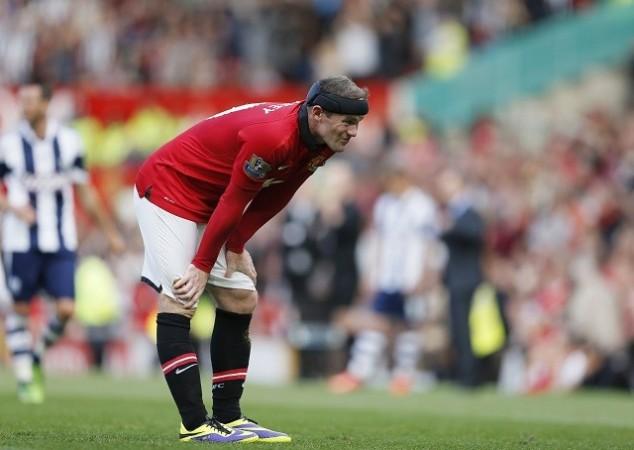 Sir Alex Ferguson stuck to his stance on Wayne Rooney asking to leave Manchester United at the end of last season, while insisting he never had a falling out with the England international.
Ferguson claimed last season Rooney had handed in a transfer request, which the player has privately denied.
Rooney was the subject of multiple bids from Chelsea last summer, with United refusing to sell their marquee player to one of their English Premier League rivals.
Ferguson, in an interview with U.S. T.V. network PBS, said Rooney came up to him and asked to leave the day after United won the title last season.
"He asked away," Ferguson said. "He came in the day after we had won the title. Nothing happened that I would get upset about.
"Wayne is unfortunate in the sense that he is England's big white hope. So therefore, the media is always centred around Wayne.
"And he has people who advise him. And I think that's where all that's coming from.
"I never fell out with him at any time, you know. Sometimes I would discipline him, but sometimes they all need discipline."
Rooney reportedly was open to moving to Chelsea in the summer, but Ferguson believes United's stance to not sell at any price has helped the forward focus himself back to matters on the pitch.
"When the club refused to sell him to Chelsea, he realised his only job was Manchester United," Ferguson added. It's brought back his focus.
"It's brought back his work ethic and his purpose, and, you know, he's playing well again.
"So maybe that was a good turning point for the boy. Did it end badly? No, I don't think so.
"I think if Wayne walked in here today, he would shake my hand."
Meanwhile, Ferguson also backed United's American owners the Glazer family, saying they had always given him the necessary support during his time at the club.
"There is a misconception about the Glazers buying the club," he said. "It created hostility and different factions but you forget, the minute it became a PLC someone was going to buy it.
"The Glazers did buy it. And in my time with them -- they were nothing but supportive -- very strong, single-minded people but always supportive of the manager and the things that happen in the club.
"I've absolutely no hesitation in supporting the way they're going about the job -- very low key."
Ferguson, 71, also insisted he has absolutely no plans to return to management, while giving his support to the under-fire David Moyes.
"I'm not interested in managing again or getting myself worked up about Manchester United's results," Ferguson said. "You would be throwing your money down the drain if you put any money on me coming back as a manager.
"United are in good hands with David Moyes. He will be fine. He's a good manager.
"I made my decision. The timing was perfect. There is no way back for me now. I've got a new life.
"I want to go to the Kentucky Derby and the U.S. Masters, the Melbourne Cup. I want to visit vineyards in Tuscany and France."