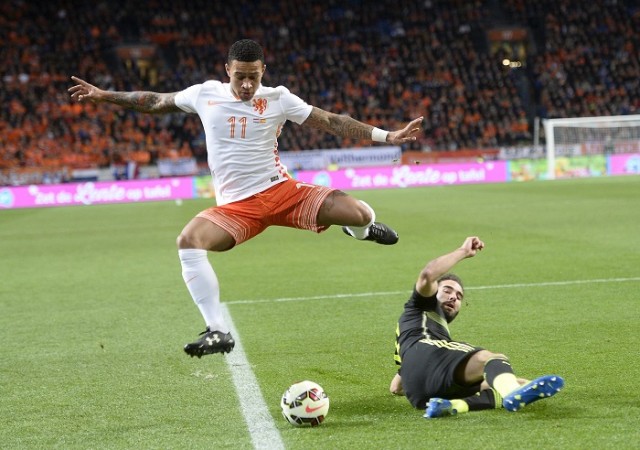 PSV Eindhoven star Memphis Depay has rubbished reports of him holding talks with Manchester United over a possible move to the Premier League this summer.
Depay has been heavily linked with a move to Old Trafford this summer, and recently there were reports of the 21-year-old flying to England with his agent to discuss a potential move to Manchester United after the end of the season.
However, the Dutchman has dismissed all the speculations, insisting that he has had no discussion with Manchester United over a summer move.
"There's absolutely no truth in that. I haven't spoken to Manchester United," said Depay after PSV's 3-2 win at Excelsior Rotterdam on Saturday, according to the Liverpool Echo.
On being asked whether he would be in talks with any sides in the next couple of weeks, Depay replied: "On that question, I am not going to comment. We shall see how things will go."
"It would be great to go to one of the big competitions this summer, but for now I don't want to speak about that. These are my honest answers to you media guys."
However, the Dutchman, who is currently being rated at around £20 million, admits that it would be "fantastic" if he completed a big-money switch to a top club this summer.
"If that would become reality, it would be fantastic. It is a dream to make a transfer with such a big impact," he added.
"But I already said, there is a lot of speculation and a lot of stories, but I don't know how things will work out, so let's wait and see."
Manchester United manager also refused to comment on whether he is looking to bring Depay to Old Trafford this summer or not.
"I don't discuss it with the media. You know my answer," the former Barcelona boss had said ahead of the Red Devils' Premier League clash at Everton.
"I have a lot of relationships with players so I cannot buy all the players that I have coached already."