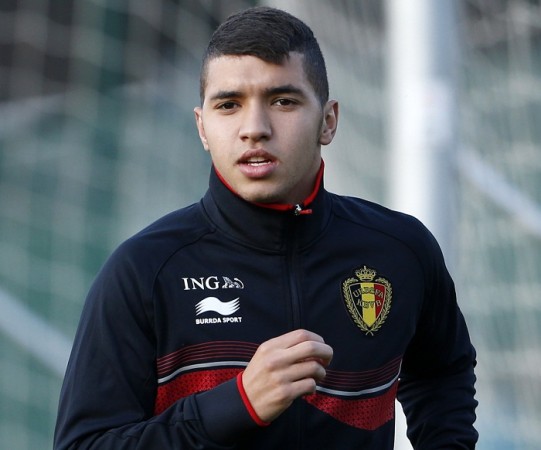 Manchester United manager Louis Van Gaal could sign two exciting young players in the January transfer window with their respective clubs confirming their player can leave for the right offer.
Van Gaal is expected to have another busy transfer window in a month's time, with Manchester United still looking at strengthening their squad heading into the second half of the season.
One player that Manchester United have scouted this season is Abdul Majeed Waris of Trabzonspor, with assistant manager Ryan Giggs personally watching the player in a Europa League game in October.
Trabzonspor admitted they are aware of interest from big clubs for their winger/forward, while also revealing the offer amount that will be required if the likes of Manchester United are to prise the Ghana international away from Turkey.
"We have received offers for our foreign players," said Trabzonspor president Ibrahim Haciosmanoglu to local TV station Bugun. "A €12 million (£9 million) offer has been made for Waris.
"The bid has come from Qatar, but we will not sell him for anything under €20 million (£16 million).
"We know Manchester United are monitoring him too."
Meanwhile, another player who could make his move to Manchester United is Zakaria Bakkali, after his current club PSV Eindhoven also revealed the player will be sold in the January transfer window.
Bakkali, who has been dubbed as the "New Eden Hazard," has refused to sign a new contract with PSV, which has left the Dutch club with little option but to try and sell the highly-rated 18-year-old in January, rather than allow him to leave on a free transfer in the summer when his current deal expires.
"The time of Bakkali is over in Eindhoven," head of youth football at PSV Art Langeler was quoted as saying by ELF Voetbal. "Let me make one thing very clear – Bakkali is a very amicable, sweet, delicate somewhat naive boy who can play football very well.
"What has happened all around the year we have already talked about. Sometimes you have to take a loss in order to avoid things in the future."
Van Gaal is known for getting the best out of young players, and if Manchester United agree a move for Bakkali, he will have a bright young talent with the potential to be great.
However, Manchester United are not the only side interested in signing Bakkali, with Arsenal, Chelsea, Manchester City and Atletico Madrid all keeping a close eye on proceedings.
Apart from a deal in the New Year, any of the above clubs can also come to a pre-contract agreement with Bakkali in January in view of a free transfer in the summer.