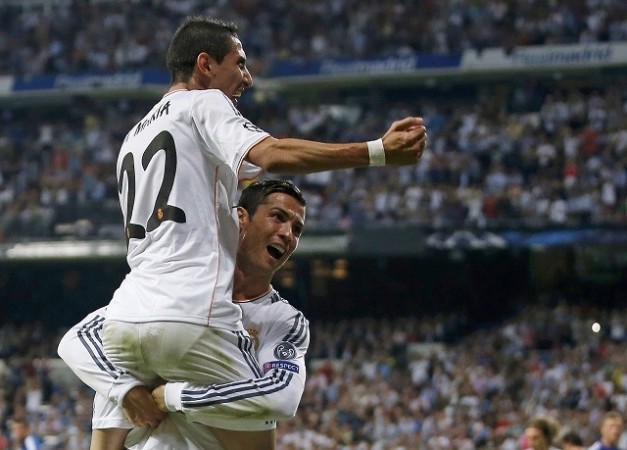 Angel Di Maria might have made his way from Real Madrid to Manchester United, but the Argentine midfielder does not expect his former teammate and United legend Cristiano Ronaldo to do the same.
Ever since Ronaldo moved from Manchester United to Real Madrid, the talk has been about when he will/might return, with those hopes only increasing with every passing season.
Last summer and the summer before that was filled with Ronaldo to Manchester United transfer rumours, but the Real Madrid superstar has stayed put at the Bernabeu.
Indeed, Ronaldo's high-profile agent Jorge Mendes has repeatedly said he does not see Ronaldo ever leaving Real Madrid during his playing career, even if he has a soft spot for Manchester United, where he turned from a talented youngster into an absolute superstar.
Di Maria broke the British transfer record when he moved from Real Madrid to Manchester United last summer, but the former Benfica man does not envisage the same happening with Ronaldo, owing largely to the fact that currently Real have arguably the best team in the world, having waltzed their way to the Champions League title last season.
"I don't think he is coming back to Manchester," Di Maria was quoted as saying by the Daily Mirror when asked about the chances of Ronaldo plying his trade at Old Trafford again.
"It's hard to quit Real Madrid. I think he's having a great time and I don't see that he wants to change."
Di Maria shares a great friendship with Ronaldo, who he still keeps in touch with constantly. Indeed, it was Ronaldo, according to reports, who delayed Di Maria's exit from Real Madrid, with the midfielder close to a move away from the Bernabeu in the summer of 2013.
Opening up about his relationship with Ronaldo, Di Maria said the Portuguese is much more than a former teammate, while again insisting he believes the player will remain at Real Madrid for the foreseeable future.
"I got to know him when he was 15 years old, from then until now we've spoken together on most days," added the 26-year-old.
"When I'm in Madrid we always meet up, our relationship is more like a friendship.
"I believe that Cristiano will finish his career at Real Madrid. He's happy at the club and is still keen to achieve more success in Madrid."