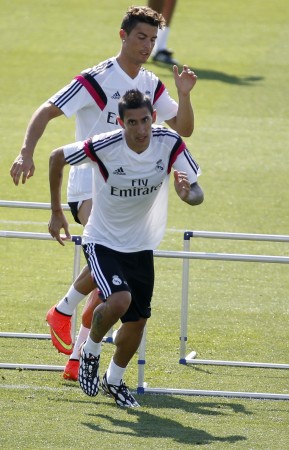 Manchester United have reportedly agreed on a 63.9 million transfer fee for the services of Real Madrid winger Angel Di Maria, with the Argentine flying in to England to complete his medical before the transfer can be completed.
According to Sky Sports, Manchester United has made an initial offer of €60 million for Di Maria, but Real Madrid had rejected the bid, demanding €90 million. In the end, the clubs finally settled on a €80m (£63.9m) transfer fee, allowing the player to go in for a medical.
Real Madrid boss Carlo Ancelotti confirmed the news of Di Maria departure saying that the Argentine is "close to a transfer."
"He came in, but this morning he did not train," Ancelotti said. "It is not fully done, but he is close to a transfer. He came to say goodbye. We thanked him for what he has done for this team and we wished him luck for the future. It is not official, but it is resolved," Ancelotti said.
However, United manager Louis van Gaal refused to comment Di Maria's transfer after Manchester United 1-1 draw against Sunderland at the Stadium of Light.
"The club has to announce it. When we are thinking it is the right time for a transfer, then we come to you and say 'OK, we have that player or the other player'. But at this time we cannot say anything," Sky Sports quoted the Dutchman as saying.
If the reports are true then Di Maria's £63.9 million switch to Manchester United will be a new British transfer record, eclipsing Fernando Torres' £50 million move from Liverpool to Chelsea in January 2011.
Meanwhile, Louis van Gaal explained the reason behind Shinji Kagawa's absence during United first two Premier League fixtures, saying that the Japanese does not prefer the style of football the Dutchman is trying to implement at Old Trafford.
The former Barcelona boss, who was deployed in the central midfield position during the preseasons, claims that the Japanese midfielder did not want to adapt to his new system.
"Kagawa did not wish to fulfil my wishes, my philosophy when I played him in the United States. Kagawa was a No.10 at [Borussia] Dortmund but I want to try him at No. 6 and No. 8," van Gaal told reporters after United's draw at Sunderland.