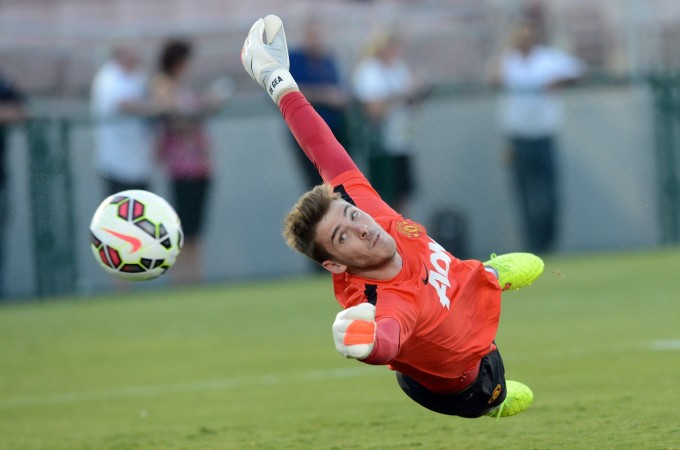 Manchester United goalkeeper David De Gea is reportedly set to sign a new contract at Old Trafford, turning down an opportunity to join European Champions Real Madrid.
Earlier it was believed that the 24-year-old Spaniard, who has been in excellent form this season, was keen to leave Manchester United due to them not being involved in the Champions League, and getting off to a poor start to this season.
Real Madrid, who are looking for a new shotstopper to replace the departing Iker Casillas, were being heavily linked with a move for De Gea, with there being reports of the Los Blancos looking to break the goalkeeper transfer record to land him in January.
However, according to the Express, De Gea, who completed a £17.8 million switch from Atletico Madrid in the summer of 2011, has decided to turn down a chance to join Real Madrid, with him set to sign a new contract that will keep him at Old Trafford till 2020.
Manchester United boss Louis van Gaal will certainly be relieved after hearing De Gea's decision as the Spaniard has been one of the main reasons behind the Red Devils run of good form of late.
Meanwhile, Red Devils defender Phil Jones says that De Gea is "terrific to work with" due to his excellent work ethic, resolve and determination to do well in each and every game.
"He is terrific to work with," Phil told Manchester United's official website. "Off the field he is a great lad; he is very humble and quiet. On the pitch, we are lucky to have him."
Despite admitting that the Spaniard had a "difficult spell" in his first season at Old Trafford, Jones says that De Gea always worked hard in training to improve himself and take his game to the next level.
"After coming to the club, he had a difficult spell in his first year. But even going through that, we saw the ability he had in training and some of the saves he makes are unbelievable. We have seen what he is like and throughout the season he has been a credit to himself."