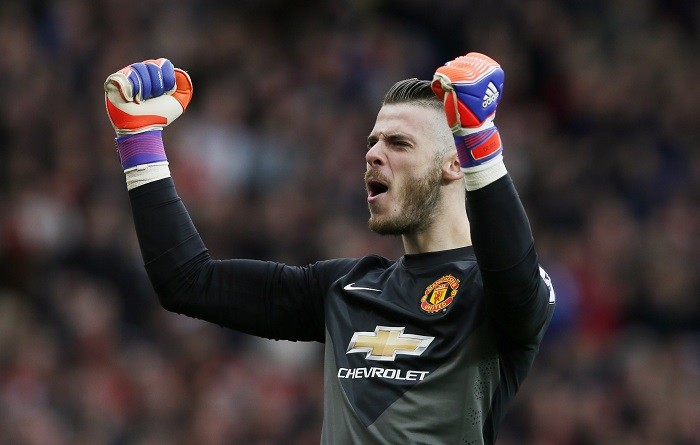 Manchester United star goalkeeper David De Gea is likely to stay at the Old Trafford for another season, according to reports.
De Gea has had a brilliant season with the Red Devils and is one of the top transfer target for the Spanish giants Real Madrid. There has been speculation about the 24-year old goalkeeper's move to Santiago Bernabeu this summer.
Real Madrid have been eyeing the Spaniard with the gloves as an ideal replacement for Iker Casillas. Few days ago, Casillas too was apparently happy about the move.
De Gea attended a ceremony at the historic Palace of Fuensalida in Toledo where he was conferred the title of the adoptive son of Castilla-La Mancha on Sunday. When asked by the media about his future, De Gea refused to comment.
"We'll see what happens with my future. I'm on vacation now and very happy with this recognition," De Gea told reporters. De Gea has been offered a lucrative extension by United but he has not accpeted the offer as yet.
Few days ago, United boss Louis Van Gaal had said he felt powerless to persuade the Spaniard to stay put at the Old Trafford. But later, Van Gaal was heard saying he was confident of retaining the player at the club.
De Gea has been named as United's Player of the Season for the second time in a row and has featured in 175 games ever since he joined the Red Devils in 2011. He has won many games for United by saving major goal attempts from their opponents.
If De Gea does not leave this summer, it would mean he will be part of a free transfer the next season. However, United boss Van Gaal had roped Victor Valdes in the last transfer window. He probably had sensed the departure of the Spaniard and thus there are rumours that United are looking to bid for French gaolkeeper Hugo LLoris in the upcoming transfer window.
According to Daily Star, incoming Real Madrid boss wants to sign Pepe Reina and would persue De Gea the next season when he runs out of contract. Real Madrid president Florentino Perez has been desperate to sign David De Gea but Benitez will have to brush aside this pressure from the club president and the supporters.